Every group of friends has that person who they all rely on to book activities and keep the friendship group from separating through not seeing each other. Chances are if you're reading this blog, you're the person tasked with organising the ski trip!
The Resort
One of the very first things you'll need to decide on is what resort you want to pick. Having lived in Morzine for over a decade, Atlas Ski Co firmly believe that Morzine offers the perfect balance for group ski bookings. If you're a group of complete beginners, the nursery slopes of Pleney are perfect learning grounds. If you're a group wanting big days out ski touring, we work with local guides with exceptional knowledge of the Portes Du Soleil, meaning they can show you the steep off piste you're craving. For skiers in between, there's such a massive network of pistes, over 650km spanning Switzerland and France, to explore. And meeting at lunch is easy when there is so many mountain top restaurants to choose from.
Snow parks are perfect for showing off in front of your friends!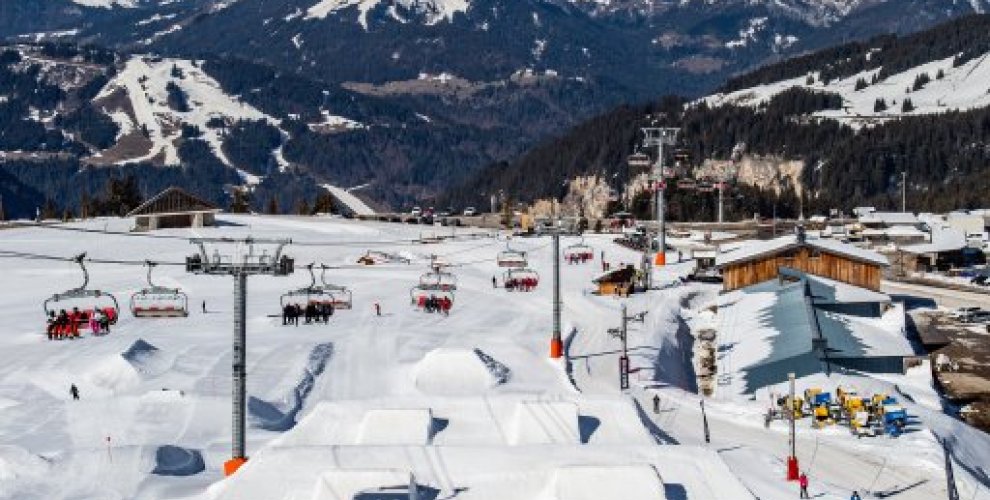 Travelling to Morzine
Often one of the most stressful parts of a ski holiday, getting to some French resorts can result in 4-hour long transfers, all after waiting for a delayed flight to turn up, testing everyone's patience straight away.
Morzine is one of the most accessible ski resorts in Europe, reachable by car, plane or train, all with different plus points. Flying is the most popular, and for good reason, as Morzine is only 1h15 from Geneva. Through our partner Skiidy Gonzales, you'll be in the resort in no time with minimal waiting at the airport. Geneva is on the destination list of most UK major airports, and with flight times as short as 1-1h30 from the south of England, you could be in the alps in about 6hrs all being well, including check-in time!
Alternatively, driving is much more doable than for any other European ski resort, as Morzine is only about 8 hours from Calais. Of course, we understand that first, you need to get to Calais, but if you're in the south of the UK, driving is a feasible option.
The third option, and one of our favourites for a number of reasons, is by train. Environmentally friendly and very relaxing, you can leave London St Pancras and travel all the way to Geneva or Cluses in comfort, taking about 10hrs in total.
For more detailed information on travelling to Morzine for your ski holiday, click HERE.
Self-Catered vs Catered
Next on the agenda is whether to go catered or self-catered for your ski holiday. There are pros and cons to each. Let's break them down;
Self Catered Pros
Be in control of your dinner times and plans. Want to eat out half the week? Or even every night? Then sure, you can do that no problem. Alternatively, just want quiet nights in with homecooked food? Again, no problem.
Relax in your own company. Depending on your group size, you can have the whole place to yourself, making it relaxing and informal.
More opportunity to check out the amazing Morzine food scene. Not being restricted by catered dinners (although Atlas Ski Co's food is hands down delicious), you'll have the opportunity to explore the many great restaurants and burger bars around Morzine.
Fully Catered Pros
Zero hassle or shopping. Check into your accommodation, have a drink, and know everything will be just perfect. No after ski shopping or looking for equipment in an unfamiliar kitchen, just let our professional chefs create stunning food for you to enjoy every night, all followed by a cheese board.
Meet other guests. Unless you're a large group and have the chalet exclusively, staying in Atlas Lodge with other guests will allow you to mingle and find new skiing partners.
Learn from experienced hosts. Even the most capable skier who knows the resort from years past can benefit from chatting to our Atlas hosts who live in the resort and know the conditions of most pistes out there, setting you up for the perfect day out on the slopes.
The Lounge in Self Catered Five25 is an ideal spot for relaxing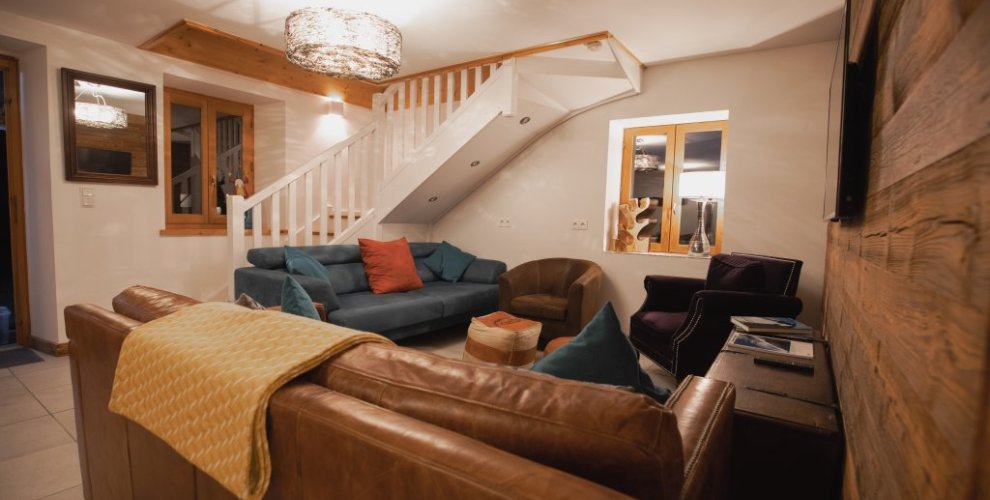 Apres Ski
Of course, once the sun starts to set (or earlier in a lot of cases), the bars get busier. Morzine, and the neighbouring Avoriaz, have a great selection of Apres Ski available on the pistes. There's the Folie Douce in Avoriaz, as well as another rumoured to be opening at the top of Le Pleney lift in Morzine! At the bottom of the hill, you have Le Tremplin, a buzzing bar with an outdoor terrace with live bands and DJs every night. If you want craft beers, why not try Le Bec Juane, a locals favourite serving great beer and a small, locally sourced menu. For more Apres Ski recommendations, click HERE.
Restaurants and Bars
As mentioned above, guests at Atlas Lodge are served with 3 course dinners, plus cheese board, 5 nights a week, so there is less emphasis on finding great restaurants. However, for those staying self catered, or for groups wanting to book something special on chefs day off, you'll be pleased to hear that Morzine has an amazing food scene, with everything from quick, traditional burgers at Au Bon Coin (AKA Pleney Burger), to traditional Savoyard cheese dishes at the refined La Ferme de la Fruitère, Morzine can cater for any group and any budget. Ask our staff for recommendations and we'll be sure to point you towards the perfect setting. Read more restaurant recommendations HERE.
Good food and Good wine make a skiing holiday!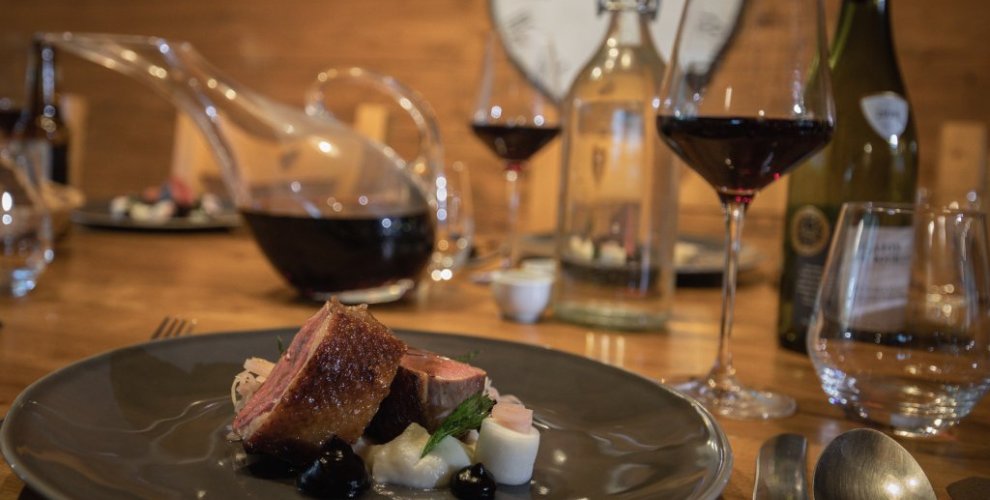 Getting round Morzine
Although all of our accommodation is centrally located, sometimes you naturally end up the other side of town and need to get back. Morzine has an efficient and extensive free ski bus, so getting around with your skis isn't an issue.
What Accommodation is best for groups?
If you're looking for a catered ski getaway perfect for groups, consider either Atlas Lodge or Atlas Sky Apartment. Atlas Lodge sleeps up to 20 in twin rooms (can be configured as doubles) and can be booked for smaller groups sharing with others or exclusively. For a group bigger than 20, you can combine with Atlas Sky Apartment, providing accommodation for 28 guests.
Atlas Sky Apartment sleeps 8 and is available exclusively, creating the perfect intimate setting for a group of friends to enjoy the French alps.
If self-catered is your preference, Chalet Five25 sleeps up to 12 guests and has a hot tub and a modern, comfortable feel to it. If you're a larger group, you can book the adjoining Apartment Zore, providing accommodation for another 8 (2 of which are in a bunk room).
Why Atlas Ski Co for your Group Ski Trip?
When booking your skiing group holiday, we know that flexibility for large groups is essential. Atlas Lodge has the benefit of being a large catered chalet in the centre of Morzine, with 10 en-suite rooms. You can book the whole thing for exclusivity, even combining the Sky Apartment above for another 8 guests, or book smaller groups and share with others. All rooms can be configured in twin or doubles. Atlas can book your ski lessons with the best in town, meaning no matter what level of skier you need to cater to, we can book the most suitable coaches out there.