Morzine is located in the very heart of the Portes du Soleil ski area which is regarded as one of the largest and best ski areas in the Wolrd. The resort of Morzine itself sits at an altitude of 1000m and has multiple ski lifts that depart from the centre of the village taking you up to 1600m on the Pleney pistes and 1756m on the Super Morzine side within minutes with its high-speed modern lift system. The highest point in the Portes du Soleil is in fact 2254m.
Morzine is a buzzing ski resort and unlike many other alpine resorts, it has a large permanent population who are lucky enough to call Morzine home, living and working in the thriving town. Morzine is full of superb bars, restaurants and shops with a fantastic apres-ski scene also. There are multiple ski equipment shops, supermarkets, banks and more on hand to make your ski holiday in Morzine very easy. Just ask our friendly team if you need to find anything in Morzine during your ski holiday and I'm sure we will have the answer.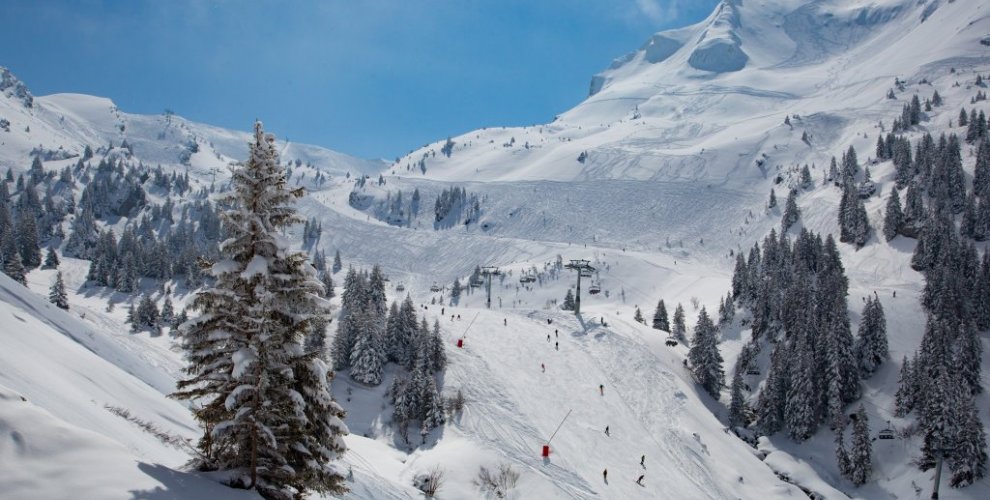 Getting to Morzine is very easy
Being located only 1.5hrs transfer from Geneva airport Morzine is one of the closest ski resorts to a major airport in the French Alps. If you are travelling with a young family or you have booked a long weekend ski trip to Morzine this makes for a hassle-free airport transfer and maximises your time on the ski slopes. Atlas Ski Co operate our own Geneva airport transfer for private groups but we outsource most of the transfers to our partners Skiidy Gonzales. If you have any questions regarding the Morzine airport transfer contact us.

Morzine is a very well known ski resort and has a huge British client base who return year on year to enjoy the superb ski pistes, relaxed resort atmosphere and the vast variety of non-skiing activities on offer. The Portes du Soleil ski area is made up of 12 resorts across two countries and boasts 650km of pistes ranging from Green to Black runs and everything in between. Don't forget the Swiss wall dropping down into Les Crosets for a major skiing challenge, for experts only.
Morzine is the perfect base for exploring the vast Portes du Soleil ski area
Why is Morzine the perfect base resort for exploring the Portes du Soleil? Well, it is located at 1000m so avoids the very worst of the weather when it is very cold and allows easy evening strolling around the town. It also benefits from lifts taking you all the way up to 2254m and the border with France and Switzerland in only 3 lifts. There are multiple bus stops and the free ski bus service that stop all over Morzine and can drop you off at the Prodains lift within 10-15 minutes providing access straight into Avoriaz and the vast PDS ski area (Atlas Ski Co operates a private shuttle service for guests). Please ask for any info regarding the free Morzine ski bus, where it stops and what times it operates.

Morzine is great for families and beginner skiers
If you are looking for a family-friendly ski resort which is great for beginner skiers and young children who are learning then Morzine is the perfect resort. Morzine has a number of great ski schools to choose from and the perfect beginner skiing pistes with its treelined greens and blues on top of the Pleney and in Les Gets.
With multiple magic carpet ski lifts and the learning slope on top of the Pleney means you do not have to travel far at all from the heart of Morzine itself to reach the slopes where most of the beginner lessons take place. After a hard morning on the beginner slopes, there are many other activities in Morzine such as the ice rink, indoor swimming pool and cinema! There are also many childcare services, nurseries and even ski schools which include child care. If you have any questions regarding family holidays and beginner lessons in Morzine please get in touch.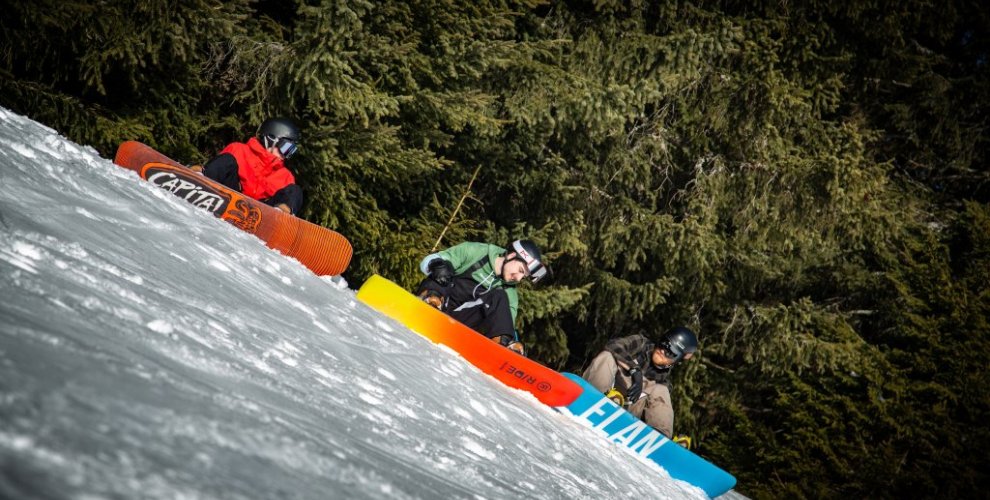 Morzine is a freestyle ski and snowboard mecca
With 11 snowparks throughout the Portes du Soleil including Avoriaz, Les Crosets, Mt Chery, Super Chatel and so on. Morzine really is located in the centre of a freestyle ski and snowboard paradise. Avoriaz became the freestyle training ground for many famous athletes including Billy Morgan and Amie Fuller who have gone on to win multiple medals at the X Games and the Olympics.
There are also many options for off-piste skiing in Avoriaz and the surrounding resorts with some super couloirs dropping down into Switzerland from the top of the Mossettes lift but please make sure you have a guide and all your safety equipment as conditions are always changeable.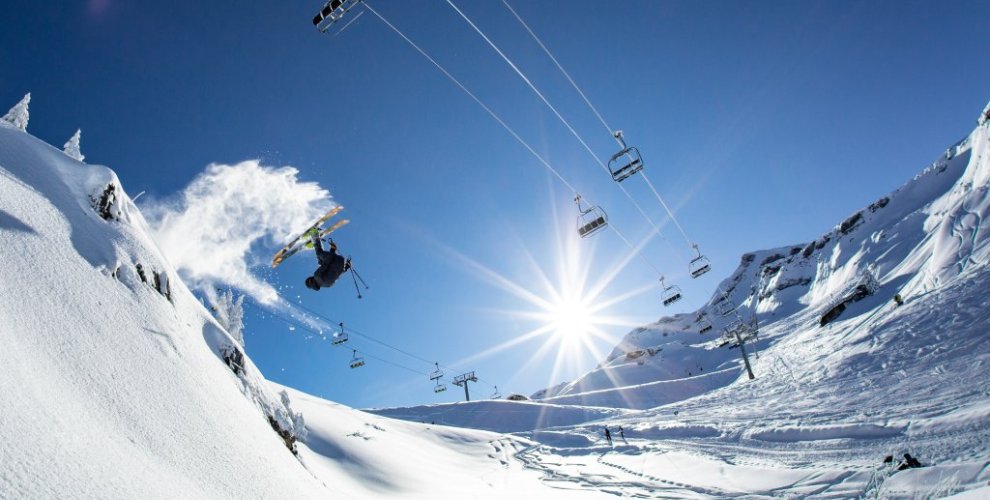 Other activities to do in Morzine during the winter
If you are looking for an activity to do instead of skiing and snowboarding in Morzine then you are in for a real treat, Morzine really does have it all. From watching the famous Morzine Penguins ice hockey team play in their Morzine stadium to going ice diving at Lake Montriond the thrill-seekers will be kept happy. Some more relaxing apres-ski activities in Morzine include Snowshoeing, Swimming or going to see the Eagle sore high above the peaks of the Nyon ski area. If you are a non-skier then fear not Morzine is still an incredible winter holiday destination.
Morzine has many restaurants and takeaway food options
With a buzzing apres-ski scene and some truly amazing restaurants cooking up local and international dishes Morzine comes up trumps when it comes to eating and drinking out. From L'Etale which is a busy, vibrant restaurant serving up traditional Savoyarde classics and great for families & large groups, to high-end restaurants boasting Michelin stars such as L'Atelier located in the Hotel Le Samoyède, you can really treat yourself in the evenings. If you fancy a quick bite there are also many pizzas and takeaway food options in Morzine including L'Improviste, Hideout and O'Chalet.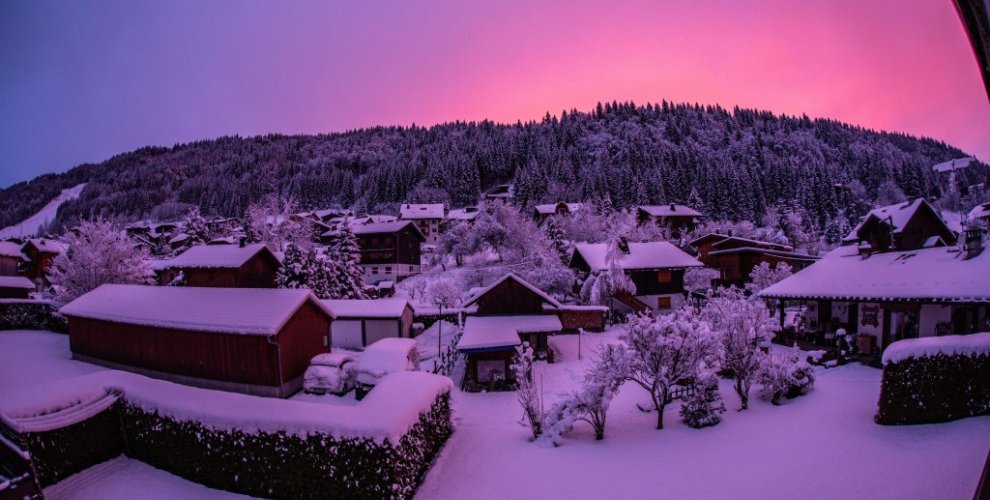 Does Morzine have great apres-ski bars
Morzine is home to some of the best aprés bars in the French alps and really does provide an exceptional experience when it comes to a few post-ski drinks. You have a large range of traditional french bars serving beers and wine and then you have a lively selection of bars and clubs. Le Crepu, Dixie bar and Rhodos are several of the most lively bars which open late and see in the early hours in style. The Cavern Bar and L'Opera provide your clubs which are open into the early hours from apres-ski to the morning light the party keep on going! And don't forget to visit bar Robinson for a tipple of the famous Mutzig at a claimed 9% it's a good job they close at 8 pm.
Morzine and the Portes du Soleil also host some excellent festivals including Rock the Piste and Snowboxx. Both events are being held in March, the perfect time of the season for warmer temperatures and spring snow, usually followed by a good dump of powder towards the end of the season in April.
For much more information on Morzine, its surrounding resorts and the ski holidays on offer in this stunning French resort please continue to browse the Atlas Ski website and please send us an email if you have any specific questions.