If you are looking to have the comfort of home cooked food, the quality of a professional chef and the ease of having all of it without having to leave your cosy winter chalet, our meal delivery service in partnership with Dining Direct offers you exactly what you are looking for. Hand made dishes delivered to your door, with easy to follow instructions on how to reheat and serve your dinner, taking the hassle out of cooking on your ski holiday, for a minimum of 6 people.
Below is a menu of favourites that have been designed by local chef Damian McArthur to ensure great quality, good produce that packages and travels well, and fundamentally easy and quick preparation for you in your property. Simply take delivery from our team and follow the instructions.
This is a fixed menu, but does not have to be ordered for the whole week. You can order individual days and the price is £25pp, you can order and pay directly with the Atlas Ski Co team on your account. Most dietary requirements can be catered for, please contact us to place an order.
MENU
Saturday

Traditional Confit de Canard
Served with with creamy Tartiflette
and fresh salad with lemon dressing
-
Veg option:
Pumpkin, spinach & blue cheese filo parcel
with creamy cheesy Tartiflette
-
Chocolate & raspberry torte with raspberry sorbet
​
​Sunday

Sunday roast: succulent roast pork
with apple sauce and gravy.
Served with roasted potatoes, carrots,
brussel sprouts and peas
-
Veg option:
Confit garlic, mushroom & nut roast
-
Hot apple & blueberry pie with thick rich custard

​Monday

Tender and aromatic lamb & spinach Korma curry.
Served with lemon & coriander Basmati rice
& Dukkah-spiced roast cauliflower
-
Veg option:
Aromatic parsnip, green bean & spinach Korma
-
The best Brioche & Butter pudding Helen has ever
tasted with orange & vanilla ice cream

​Tuesday

Chunky chicken, bacon & leek pie.
Served with buttery mash potato, carrots and beans
(and ketchup of course!)
-
Veg option:
Hearty mushroom, leek & thyme pie
-
Sticky toffee pudding (oh man!)
with vanilla crème fraîche

​
Wednesday

Probably the greatest beef, pumpkin & spinach
Lasagne al Forno you'll ever eat. Probably.
Served with sundried tomato & garlic bread
and fresh salad with walnut dressing
-
Veg option:
Roast aubergine, pumpkin & spinach Lasagne
-
Baked lemon tart with creme anglaise
​
Thursday

Hearty beef, bacon & mushroom bourguignon.
Served with baked potatoes, almond-butter
broccoli and honeyed carrots
-
Veg option:
Hearty celeriac & mushroom bourguignon
-
Apple & blackberry crumble
with blackberry & vanilla ice cream
​
Friday

A taste of Morocco: Rich, intense lamb, sweet potato
& chickpea Tagine.
Served with fragrant mint & sultana couscous,
grilled courgettes & Dukkah-roasted tomatoes
-
Veg option:
Cauliflower, sweet potato & chickpea Tagine
-
Warm apple & walnut tart with cinnamon ice cream
​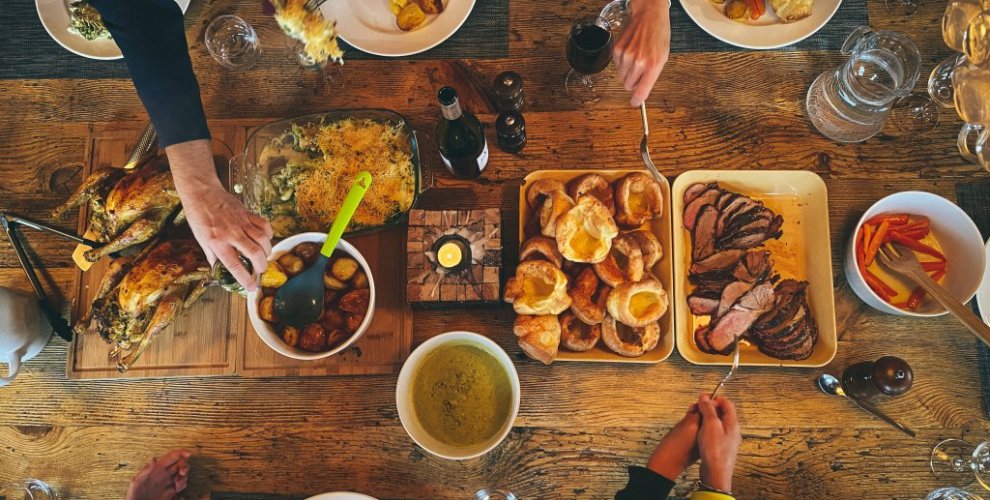 HOW TO ORDER
Simply send a message in your booking portal or email us before arrival in the resort, or send a WhatsApp to our team on the ground and we'll be happy to place your order and have it delivered to your chalet.
Payment can be made in cash to our team or online via your booking portal.
Fancy fantastic wine to pair with your meal? Atlas Ski Co can deliver wine to your chalet, straight from our carefully curated wine list.
Minimum orders may apply.