Skiing with your children is an incredible experience and one you will never forget. We understand the highs and lows of the whole experience with many children in the Atlas family already and with years of experience living and operating in Morzine, we can recommend the best childcare for your Morzine ski holiday so you can be assured your special ones are in safe hands when they are learning and playing.
If you are looking for a nanny for the day or a ski school that also includes childcare so your children have other kids to play with and learn alongside or if you simply need some time off as busy parents. We are happy to recommend several professional, qualified and experienced businesses and individuals that will look after your kids on the slopes, in your chalet or at a creche in Morzine.

Small groups for children ski lessons in Morzine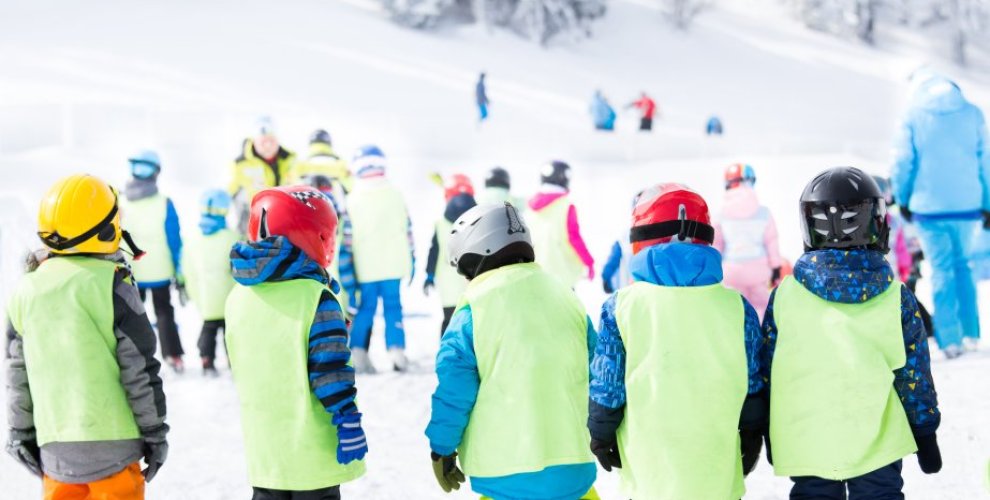 It is best to book as far in advance as possible
Booking childcare for your ski holiday is very important and during peak season and busy periods like half-term and Christmas, we strongly recommend you book it as far in advance as possible to avoid disappointment and make sure you really can enjoy your ski holiday as a whole family.
Cheeky Monkey is owned by Sharon Turner a long-term resident in Morzine, they provide qualified English nannies who will look after your children in your accommodation during the day and also offer a great evening babysitting service.
Sharon Turner - 0033 616 122 880
Morzine Kids is operated by Helen Barnett a qualified paediatric nurse and has been running since the summer of 2012. Having her own daughter Matilda also Helen really understands how to deliver childcare to your children essentially as a stranger, making them feel safe and relaxed.
Helen Barnett - 0033 68 40 64 098
[email protected]
Alpine Resort Nannies
Alpine Resort Nannies operate in Morzine and Les Gets offering a professional and bespoke service with packages including half and full-day, evening babysitting and ski school pick-up.
There are several other individuals and companies offering childcare and nanny service in Morzine which we have listed below if the above options do not work for you.
L'Outa Nursery
Vacation Nannies
Alpine Childcare
A-Range Childcare
Ski lessons and Childcare, does it really exist!
There are other options to simply childcare and that includes childcare combined with Ski school, which is often the preferred option. If your children are aged 4 and upwards there are several options.
BASS
BASS - The British Alpine Ski School offer mini-groups for up to 4 children maximum from the ages of 4-7 years old. They run on 5 consecutive days and each session is two hours long. This gives the kids ample time to learn and the parents a good chunk of time to get up high, go far or sit back and relax until it's pick-up time!
BASS offer this package on a beginner, green and blue level so if you child has never skied before or is a seasoned pro there is an option for all. Prices are from €430 for the 5 x 2 Hr slots.
The Mini program is available during the UK school holidays. Drop BASS an email if you need lessons outside the holiday weeks.
The Snow School
The Snow School (Operated by ESF) offer ski lesson session for children from 4-5 years old, they focus on the basics ensuring a reasonable understanding of technique in a fun a friendly way. 5 x 2 hr slots is the offering again and they have a low and high season schedule
The Snow school also offer a Snowflake group for children of 6 and over, taking them from beginner to level to 3 stars.
Prices start from €235 up to €354 inc lift pass depending on age, date and lift pass
ESF - Piou Piou
ESF - Piou Piou is amazing fun and madness at the same time, located at the foot of the Pleney slopes in Morzine with large groups of children going in all directions. It is organised chaos, some children love it some can be overwhelmed. It offers full and half-day care and allows for parents to really get away for the day if they so wish. Have a good read of the website and reviews.
Childcare for your ski holiday in Morzine is very important as it allows the children to burn off some steam and allows the parents to relax from the daily childcare duties whilst on holiday. We have provided a list of childcare and ski schools above and hope this helps during your holiday.
We will not book any of these providers on your behalf and they are only recommendations, please ensure you do the appropriate research into the childcare providers if you do choose to use one for your ski holiday in Morzine. We appreciate that trust is essential when leaving your children anywhere, which is why we leave this decision up to the individuals. All recommendations come with great previous experiences.