Booking your Morzine ski hire equipment has never been easier or fitted in such comfort. Introducing Doorstep Skis! Doorstep Skis have been operating for over 10 years and were one of the very first ski hire delivery companies in Morzine.
The idea is genius and so simple, pre-order your ski equipment and have them deliver it to your Morzine accommodation when you arrive. This could be at 8 am in the morning or 11 pm at night, once you arrive simply message Doorstep Skis and one of their mobile fitting technicians will visit the chalet whilst you sip on your welcome glass of fizz or beer and fit your equipment in the comfort of your accommodation.
What is the catch you might think? Well, there isn't one and our founder and owner Rich can vouch for this as he worked for Doorstep Skis for four years in the early part of his Morzine life as a ski technician and knows the process very well.
What are the benefits of hiring your equipment through Doorstep Skis in Morzine and how can they ensure the equipment is the right size and fits properly. We will try and answer these questions below to reassure you of the quality and reliability of the service.

Easy to book and order online
Simply visit the Doorstep Skis website via the link in your Chalet Manager booking area and choose your equipment, this can vary from Eco to Premium and it all depends on your budget ability and preference. There is no deposit required for your booking, you simply reserve online and pay in resort once you are happy with all of your equipment

Booking with Doorstep Skis is very simple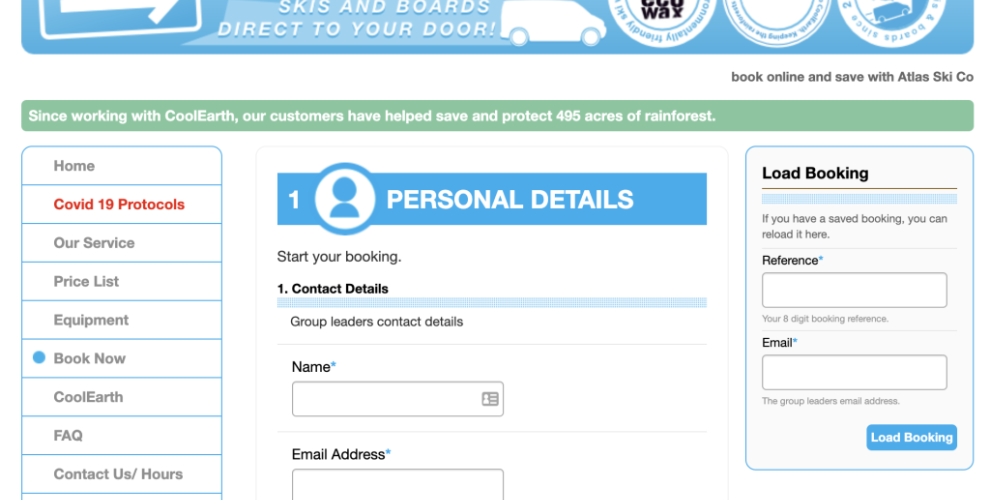 How do they know what size I require?
The website will ask you for your height and weight, shoe size, ability and ski length if you have a specific preference. You can also add notes to your booking, for example, freestyle or twin tip skis please to ensure you receive what you would like and to help the staff when selecting your equipment.
What if my boots are too small or my equipment is not what I expected?
Each Doorstep Skis mobile fitting team will carry a number of spare boots, skis, poles and helmets etc inside the vehicle when visiting you so they can normally sort out 99% of issues on the spot. If there is really something specific that needs to be changed another team from HQ will be dispatched to bring the item over or it will be delivered before you hit the pistes regardless.

Quality of equipment
The owners of Doorstep Skis and all the staff are passionate skiers and snowboarders and like to have their equipment kept in tip-top condition so you can always expect your skis and boards to be freshly waxed, edged and in great condition to hit the slopes. Boots and helmets are sprayed and cleaned after each use and dried before being sent out again to the next client.

Insurance for your ski and snowboard equipment
Accidents happen sometimes and it is best to be prepared for it, Doorstep Skis offer a multi-risk insurance option which you can add on at the time of fitting and payment for your ski hire. This covers you against accidental damage and theft, for example, if you hit a rock and damage an edge or if your skis are taken from your restaurant at lunch by accident, many skis look very similar.

Renting your ski equipment can make life very easy
Renting your ski or snowboard equipment whilst on your holidays can make life much easier, you don't have to pay the airline to transport your own skis or risk them being lost or not arriving at the airport especially if you are on a short weekend ski trip to Morzine. Doorstep Skis always have an option to rent the latest equipment and have stock of new skis every season and they come serviced and waxed saving you maintenance fees before and after your holiday on your own equipment.
Rent your ski equipment and hit the slopes