Après-ski (noun) - the social activities and entertainment following a day's skiing.
Often starting on the mountain, the art of Apres Ski is alive and well in Morzine. With enough bars to keep you going from mountain-top, ski-boot wearing, table-top dancing well into the night in bars with live bands, DJs, cocktails or small-batch craft beer. Morzine is a year-round resort meaning the bars, restaurants and clubs have year round funds and support, giving Morzine a unique vibe not often found across the alps. There is also a buzzing 'locals' scene, a testament to Morzine's appeal to nightlife-indulgers.
Drinks on the Mountain?
To start with, there are several venues on the hill itself that are worth visiting; Happy Hours at the bottom of the Ardent lift (Lindarets area) and La Folie Douce in Avoriaz. Happy Hours officially kicks off at 4pm every day with live bands. Each Wednesday, it's the DJ's turn and Happy Hours hosts one of the biggest apres-ski parties in Morzine.
La Folie Douce is a name synonymous with apres-ski across France. Known for its bougie champagne buckets and packed balconies, it's the place for the discerning apres-skier to start their night.
The Tremplin at the bottom of Pleney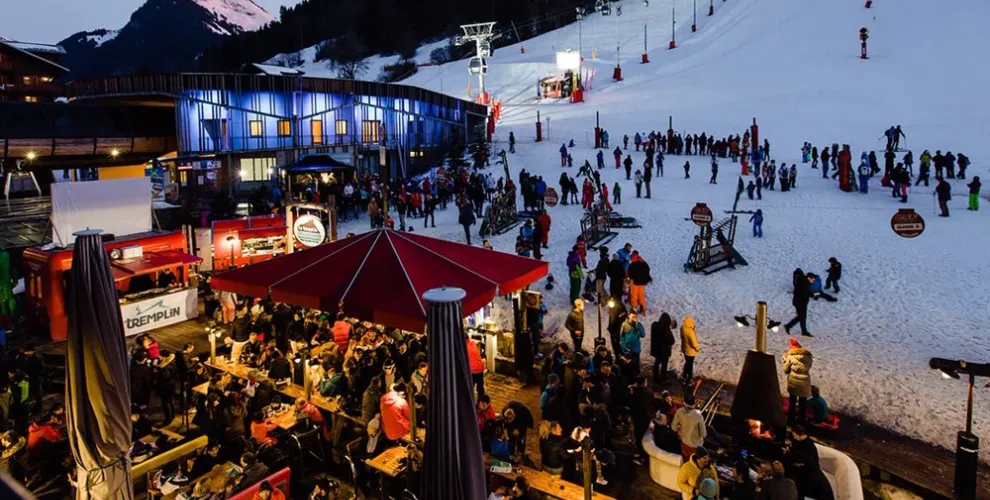 Best bars in Morzine town
A bit closer to home, at the bottom of Le Pleney slopes, you'll stumble across Le Tremplin, with DJs and a good vibe. Le Tremplin is a popular spot to kickstart the evening if you don't fancy skiing back under the influence. Le Tremplin has a large outside terrace with heaters overlooking the Pleney slope, and is the closest spot to the Pleney Telecabine. Le Tremplin's outdoor terrace is open 4-8pm every day for it's Apres-Ski party.
Le Crepu is in the heart of town, and following a complete renovation in 2019 is a welcoming bar serving cocktails, bar snacks and good beer, always accompanied by a feel good vibe.
For those wanting to watch live bands and revel in the atmosphere, Le Cavern is as good as any. Home to the Beer Table, where you pour your own beer from taps installed on the table, Le Cavern is known as "the liveliest bar in Morzine" for a reason. Le Cavern also shows all major sporting events throughout the season.

Irish Coffee anyone?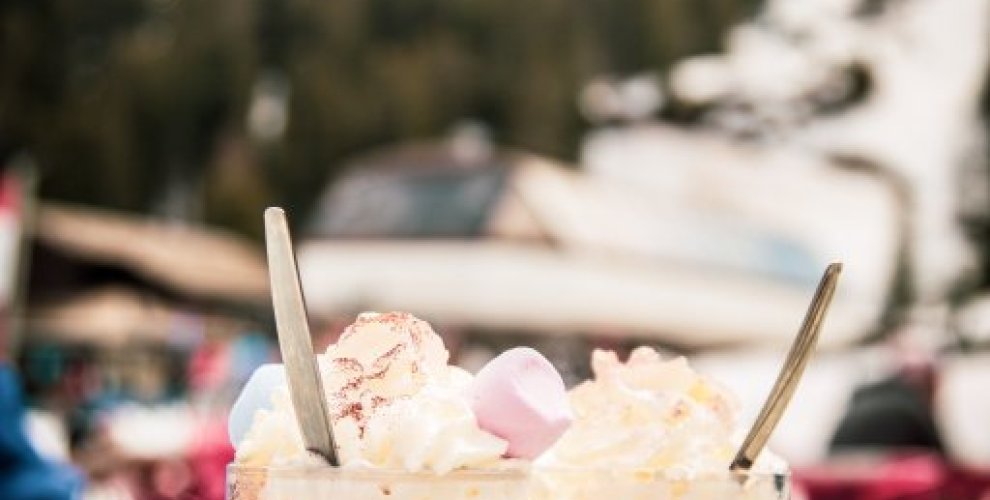 Best Sports Bar?
Probably our favourite place to watch sport is The Dixie Bar, Morzine's Irish bar. With three separate bars themed Irish, Spanish & British, it's a favourite hangout of tourists, seasonaires and locals alike.
A favourite with British tourists, each February and March is the Six Nations rugby tournament. With a large UK import of tourists and seasonal workers, you can be sure to catch the weekend's matches on in town, and The Dixie Bar is one of the best spots to watch from.
Best for chill evenings?
For revellers wanting a chilled-out atmosphere, The Tibetan Bar (FKA Buddha Bar) is the place to go. With live music, an experiential cocktail menu and a zen theme, The Tibetan Cafe has it all.
And one of our personal favourites, Bec Jaune Brewery, combines home-brewed craft beer with tasty bar snacks and burgers with a focus on local and seasonal produce. Need we say much more as to why this ranks highly with locals and tourists?
And nights at the Chalet?
Atlas Ski Co pride ourselves on providing you a with exceptional food, good chat and a selection of beer and wine to enjoy, so if the bars of Morzine aren't your scene for the night, come back, sit in the lounge and unwind at the chalets - our staff will always be keen to hear about your day on the slopes and give you recommendations of where to try tomorrow!