So, you've booked an Atlas Ski holiday, lift pass secured, skis and boots hired or bought, and spending money saved. Now for logistics. Should you drive, fly or train to Morzine, that is the question. One of many beauties of Morzine is how accessible it is, being the closest resort for most tourists travelling from the United Kingdom, and if flying, the shortest airport transfer too.
We often get asked "What is the best way to travel to Morzine" - there are 3 main ways to get to Morzine, by plane, by train or by automobile. Having done all 3 many times, we'll weigh up each option, plus points of each, and what to expect not just in terms of travel time but how they can add to the holiday experience.
Flying to Morzine
On paper, flying to Morzine is probably the quickest and easiest way for the majority of the United Kingdom to get to Morzine. Geneva airport is about 1.5hrs from most UK airports and only an hour from Morzine, and regularly serviced by private transfer companies, such as our partner Skiidy Gonzales.
Important note: You cannot book a cheap transfer at the airport and expect a quick departure. There are some budget companies that can take your money at the airport, but you'll be lucky to leave within a few hours of arrival. The reliable, efficient companies must have a pre-booking due to Swiss transport law.
Geneva airport is serviced by Swiss Air, BA, EasyJet, Jet2 & TUI from many UK airports.
Although the quickest way to Morzine, especially if you have a long way to travel to Dover or St Pancras Train Station, the downsides are that flights restrict your luggage the most - and skiing does typically involve bulky clothing. Also, transfer days at alpine airports can be busy, and with that many people, delays do unfortunately happen.
Flights cost around £150 return on Saturdays during ski season. Be sure to book a morning flight departing the UK and an afternoon flight returning to allow for transfers.

Book your airport transfer with Skiidy Gonzales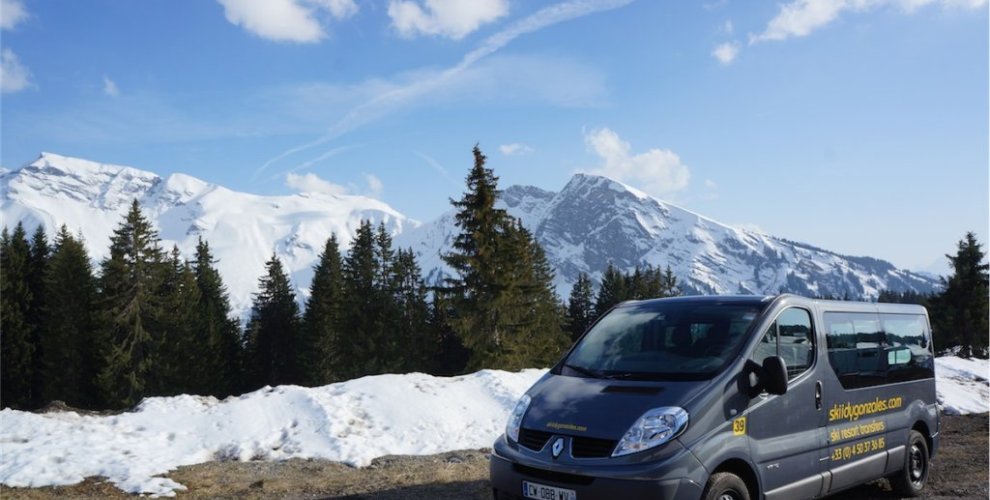 Driving to Morzine
Probably the most flexible option to travel, especially if you live in the south of the UK. You can choose between ferries or the Eurotunnel. Ferries are the cheapest, starting from as little as £17 each way, taking about 90 minutes, and running 15 times a day.
The other option is the Eurotunnel. Offering greater flexibility than ferries with more services each day as well as flexi ticket options, and only taking 30 minutes to cross under the Channel.
If there's a group of you travelling with skis and boards, driving allows you to take the most luggage, plus you can stop in a hypermarché on the way home and pick up a few bottles of French wine.
From Calais, the drive is about 9 hours, allowing time for a stop or two to take some caffeine on board. Tolls cost an additional 75€, but are well worth it. The only real time you need to put the brakes on driving in France are at the toll booths, otherwise it's cruising at 130kph until you hit the foothills of the Alps.

Train to Morzine
Growing in popularity as the most relaxing and environmentally friendly way to travel to Morzine, catching the train means your holiday starts when you board at St Pancras, as you sit back and watch the French countryside roll by.
Admittedly, this option is very London-centric, but if you are based in the South & South-East of England, you can catch the Eurostar service from St Pancras to Paris Gare du Nord with ease. From there, you'll need to switch to Paris Gare de Lyon before catching the TGV Lyria service direct to Genève Cornavin. Geneva is the simplest station to transfer to Morzine, as the transfers are regular and only an hour or so in duration. London to Geneva takes about 8 hours by train.
You can also catch the train to Cluses, which has a shorter transfer time, however it will have to be private as Cluses is less regular for transfer providers. It also involves a second transfer at Annecy, and it also takes about 10 hours in total.

Why not catch the train?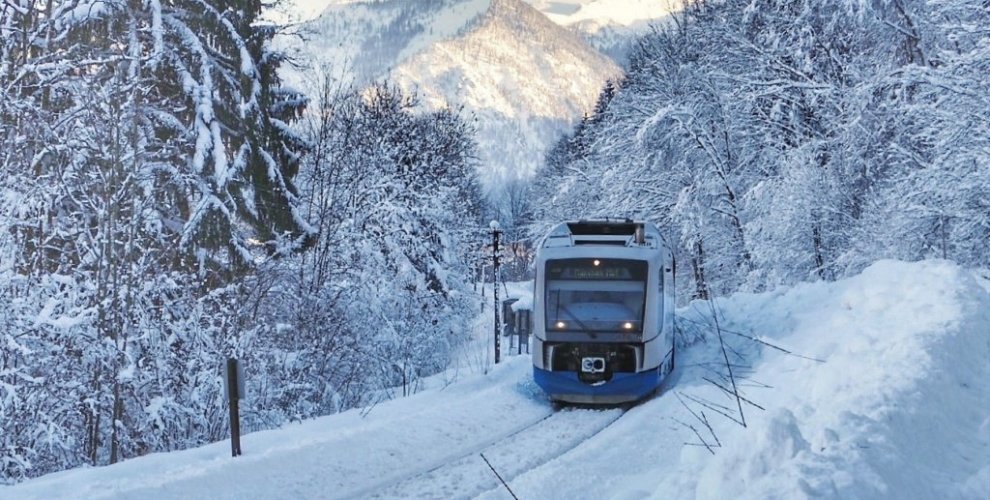 | Method | Approx. Return Cost (£) | Approx. Duration | Benefit |
| --- | --- | --- | --- |
| Drive | 350 | 12hrs | Cheapest when split between group. Bring more luggage. |
| Fly | 250 | 6hrs | Easy from any UK departure location. Short transfer from Geneva |
| Train | 180 | 8hrs | Environmentally friendly and relaxing. |
*prices are estimates and subject to change
So there you have it, a guide to getting to Morzine for your skiing holiday. However you choose, our chalet staff will be there to greet you with a drink waiting.