30
10
Hotel Fleur des Neiges is a traditional Savoyard-style Morzine Ski Hotel, located in central Morzine with easy access to the busy Apre-Ski bars, shops, restaurants and supermarkets. With open fireplaces, a great bar and comfy sofas there are plenty of places to relax after a hard day on the hill. There is also a heated outdoor swimming pool open during the winter and sauna to really soothe the pain.
Located a 5-minute walk from the Pleney and Super Morzine ski lifts you are provided with easy access to the Portes du Soleil ski area, there is also the free ski bus service which stops at the end of the road taking you into Morzine or directly up to the Prodains ski lifts allowing access to Avoriaz within minutes. This is a local family-owned and run hotel that has been operated by the same family for decades with a great history and reputation within Morzine.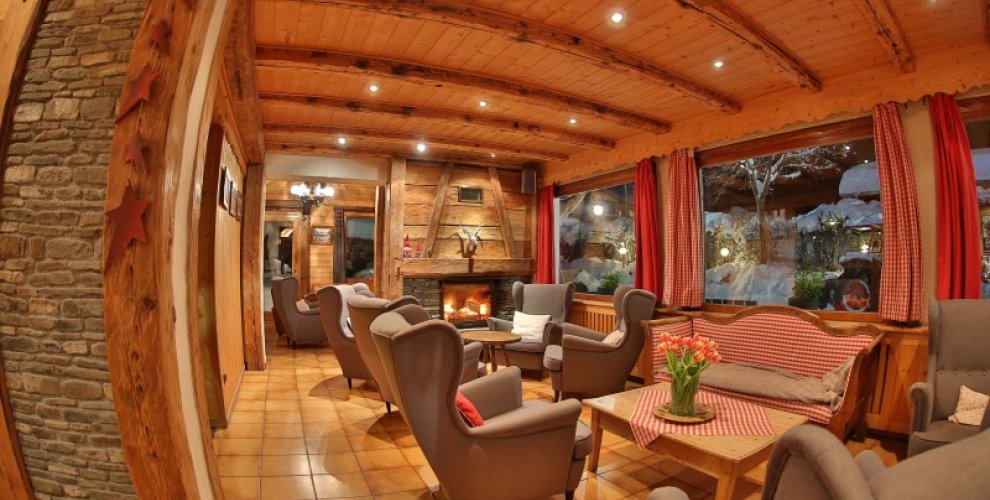 Despite being very close to the action Hotel Fleur des Neiges enjoys its position on a quiet backroad to ensure a good night's sleep is always possible.
There is a lower ground floor with ski storage, boot room and boot dryers to ensure your kit is safe and dry for the next day's skiing. There is also a games room and chill-out area on the lower ground floor great for the kids! Parking is made easy with ample space outside of the hotel itself and with a late check-in time of 11 pm if you do drive to Morzine and arrive late you will still have a warm welcome.
Although this hotel is not operated by Atlas Ski Co itself our staff will meet you at the hotel and we can help with everything you require for your Morzine ski hire including the following extras
What we can also provide
Morning and Afternoon shuttle runs to the slopes
Morzine and Les Portes du Soleil ski lift passes
Airport transfers booked with Atlas' partner at exclusive rates
Ski lessons and Guiding
Ski Hire delivered to the accommodation, no shop queues
Childcare + Care Packages
Sports massage and Physio
Gym access
Please ask one of our staff or the team at the hotel once you arrive. Our flagship catered ski chalet, Chalet Atlas, is located 5 metres across the road.
There are several extra elements of your ski holiday in Morzine we can help with to make your holiday run as smoothly as possible to ensure maximum relaxation.
Ski Passes
There are many options available for your Morzine ski pass with different prices from child to adult and which resort you wish to ski at. Please follow the link here to find out much more and add your ski passes to your My Booking area so they are ready and waiting for you on arrival at the resort. See more here.
Ski Hire
We have partnered up with Doorstep Skis which offer a chalet delivery service so no queuing at the shop, no carrying your skis home and the luxury or having your skis fitted on arrival so you are ready to hit the slopes straight away. See more here.
Ski Lessons and Guiding
Booking your ski lessons and ski guiding couldn't be easier, we have partnered up with the best in the business from Season Guiding, BASS and Peak Snowsports. See more here.
Airport transfers
Getting from Geneva airport or train station to Morzine for your ski holiday is very simple with one of the shortest transfer times of any resort in the Alps. This is a real appeal if on a short break or with children. We have partnered up with the best in the business who we know provide a reliable service. We even provide transfers ourselves for private services or family groups. See more here.
Travelling with Children
We supply High Chairs, Travel Cots, Kid's plates and cutlery on request. We can also pre-arrange the purchase of nappies and wipes on your behalf before you get here to save you from bringing them with you. All helps to save space when packing with little ones – speaking from our own experience!
Sports physio, massage & gym
Skiing is demanding on the body and everyone deserves a massage to blast that lactic acid and those tight muscles. We have partnered up with Mountain Rehab who offer physio and massage services within the chalet or at their central Morzine gym. We can also provide protein powders from SIS to keep you feeling fresh and strong.
To book your Atlas ski holiday we require a 30% deposit at the time of booking, the final balance is then due 8 weeks before your arrival at the resort.
Booking deposits are non-refundable but they are flexible and you can move the date of your holiday at any point before your 8-week final balance due date. The booking can only be moved within the same season it was originally booked or our standard T&Cs apply. Read our T&Cs HERE.
Check-in at Hotel Fleur des Neiges is from 15:00 - 23:00
Check out is between 08:30 - 11:00
If you arrive early it is possible to leave your bags until your room is ready and have a drink in the hotel bar or go for a walk around town. If you wish to ski on your departure day you can check out of your room and leave your bags until you are collected.
227 Taille de Mas de Nant Crue, 74110 Morzine, France

Phone: +33 4 50 79 01 23
Property gallery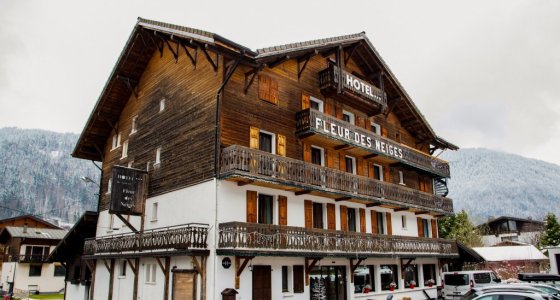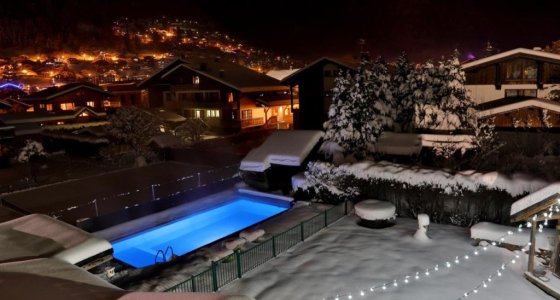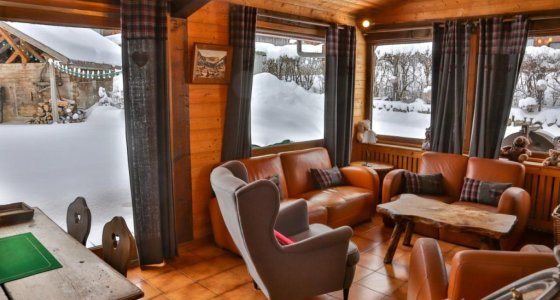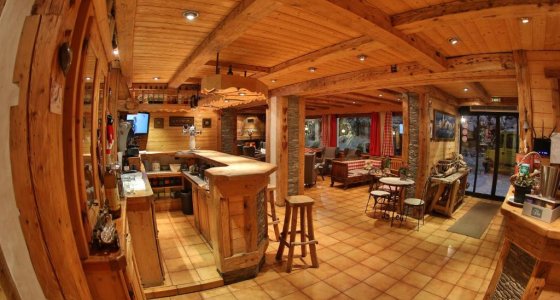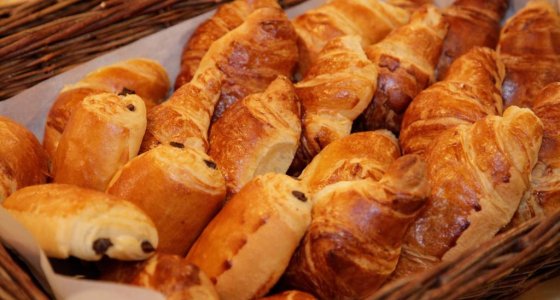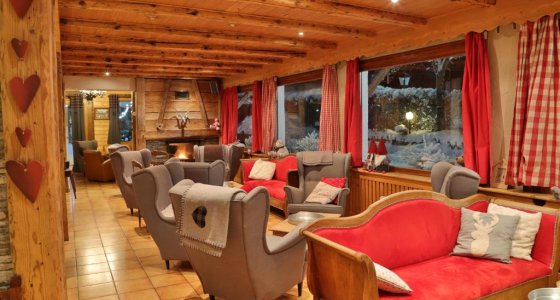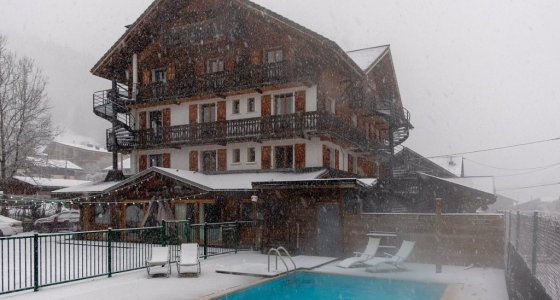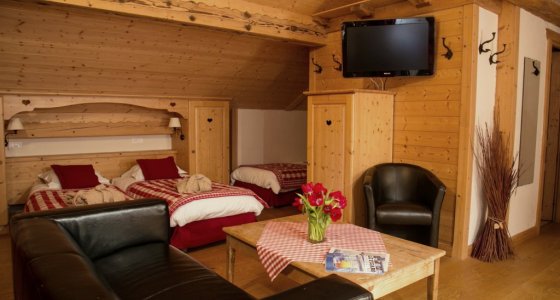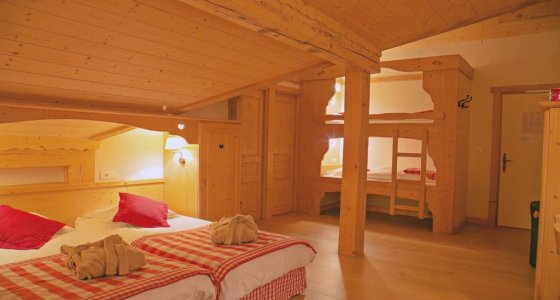 Booking and Availability
Please use the enquiry form below to start the booking process. Please feel free to contact us to discuss any elements further before booking if you need to. Once your booking is made you can always make amendments at a later date if you so wish.
NB - All bookings are + €1.50 per night per person tourist tax payable at the hotel on arrival. All quad rooms are double beds plus bunk beds.
Low-season pricing and dates
| Room Type | Board - B&B | Board - H/B |
| --- | --- | --- |
| Small Double or Twin (12m2) | €155 | n/a |
| Standard Twin/Double (14m2) | €175 | n/a |
| Standard Quad (20m2) | €250 | n/a |
| Superior Quad (24m2 or more) | €295 | n/a |
Mid-season pricing and dates
16th to the 22nd of December
13th of January to the 09th of February
02nd of March to the 12th of April
| Room Type | Board - B&B | Board - H/B |
| --- | --- | --- |
| Small Double or Twin | €180 | n/a |
| Standard Twin/Double | €200 | n/a |
| Standard Quad | €285 | n/a |
| Superior Quad | €330 | n/a |
High-season pricing and dates
23rd of December to the 31st of December
10th of February to the 01st of March
| Room Type | Board - B&B | Board - H/B |
| --- | --- | --- |
| Small Double or Twin | €220 | n/a |
| Standard Twin/Double | €240 | n/a |
| Standard Quad | €320 | n/a |
| Superior Quad | €365 | n/a |
Mallory Wright
Mon, 01/09/2023 - 11:28
We stayed in Chalet Chapelle, apartment upstairs. Staff were really lovely and couldn't do more to help. Food was DELISH. We had kids and all was great for them too. Will definitely be using these guys again - even though there was minimal snow we had such a great break. Thanks Ben, Kat and Tony!

Neil Hooper
Thu, 03/09/2023 - 14:17
We have just spent a week with Ben and the team in Atlas Chalet in Morzine. What an amazing experience. The team made us so welcome and nothing was ever too much. The chalet is excellent, the food is amazing, the location is perfect. We will definitely be back!