We love skiing in Morzine all season long, but if you were to ask us, we would all say March is something special. The cold early season days of January are a thing of the past, but they've left behind good snow, and the peak season of February has died down, leaving March with quiet pistes, good snow conditions (and historically strong snowfall) as well as longer days full of sunshine to enjoy.
Historical Snow Report
Although March is considered towards the end of the season, there has historically been a strong snowfall record in the month of March. Obviously, this differs from year to year and can't be relied upon absolutely, however, over the course of 15 years of records, March produces plenty of fresh snow to enjoy.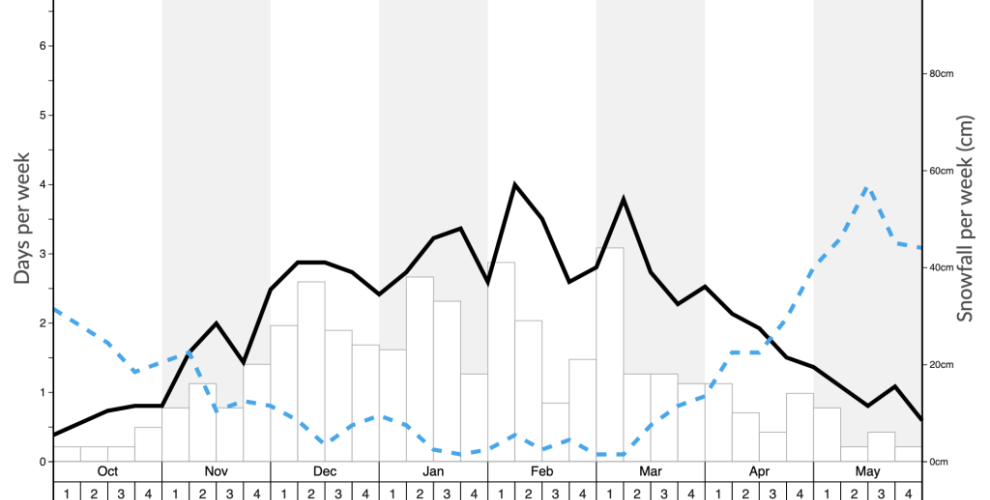 Quiet slopes after February half-term
After the rush of February and the French and British half-terms, enjoy quieter slopes and shorter lift queues. Once you've navigated away from the main lifts, it can feel practically empty with wide pistes and empty chairs, meaning anyone wanting to go on big days out venturing far and wide can do so leisurely without queues.
T Shirt weather in the Mountains
There is nowhere better than a restaurant terrace in the alps after a hard morning skiing. With the warmer weather, you may just want to kick back in the deck chair, soak up the mountain sunshine and spend the afternoon sipping Aperol Spritz.
Not only can you enjoy the outdoors more, you can ski in less layers, freeing you up both on the pistes and during the après!
Longer Days
As the days grow longer, the lifts run later, so you can squeeze that extra run or two in and still have time for a long lunch! It may not be much, but that little bit extra at the end of each day adds up over a week.
Will you be joining us a chairlift soon?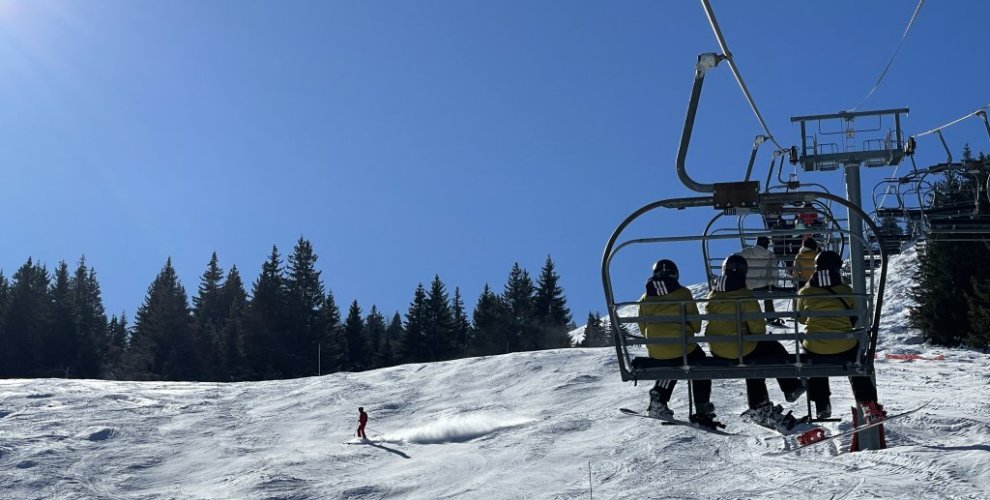 It's not over yet
While the slopes are quieter, the resorts still have so much life left! With music festivals, skiing competitions and more visiting Portes Du Soleil in March, there is so much to do and see for everyone during March. Check out our events guide HERE.
More flexibility with bookings
Outside of amazing apres-ski and a big ski area, one of Morzine's greatest strengths is how easy it is to get to, which lends itself to short stays. While we try, it isn't always possible to accommodate these due to existing bookings, especially around peak weeks in February.
However quieter weeks in March allow us to tailor the experience to each individual group, meaning we can cater the duration of each stay accordingly.
This extends beyond Atlas Ski Co, too. Airlines are quieter, as well as restaurants and ski hire. Don't want to ski every day? There is also greater flexibility for other activities around the resort, such as massages or snowshoe tours, so your time in Morzine can be exactly what you want it to be.
Contact us to discuss your ski trip needs and one of our friendly team can help.
March Ski Deals
Check out our latest ski offerings across March HERE. There are several short-stay options with great deals, as well as limited availability for 7-night stays.
Want self-catering? We also have Apartment Zore for smaller groups or Chalet Five25 for groups up to 12.