Nestled within the Portes du Soleil region, Morzine is already popular with groups of families and friends as a skiing destination, but the corporate skiing holiday market will love the buzz of the town which comes alive in the winter. So, if you're tasked with booking that next ski trip for the firm, here are our top reasons that Morzine might just be the perfect quick skiing getaway for corporate groups.
WHY CHOOSE MORZINE FOR A CORPORATE SKI TRIP?
There are so many great reasons to choose Morzine and the Portes Du Soleil for that corporate ski trip. Here we list our top reasons to add it to your list of destinations.
London to Morzine in less than 4hours
As well as having great skiing and being a part of a vast ski area with 650km of pistes to explore, Morzine benefits from being one of the most accessible ski resorts in Europe.
With multiple daily flights from London City Airport (1h30 flight time), as well as every major airport in the UK, flying to Geneva is straightforward and hassle-free. There are multiple carriers flying from the UK to Geneva, including Swiss Air and BA, as well as several budget airlines.
Once you land in Geneva, through our trusted partners Skiidy Gonzales, you and your corporate guests can arrive in Morzine in 1 hour 30 minutes, ready to hit the slopes with minimal hassle.
We can even arrange half-day lift passes so you can fly in the morning and ski in the afternoon! There's no waiting around for other flights to arrive, we can tailor your pick-up to meet you as soon as you're through customs.

Canapes and Champagne ready and waiting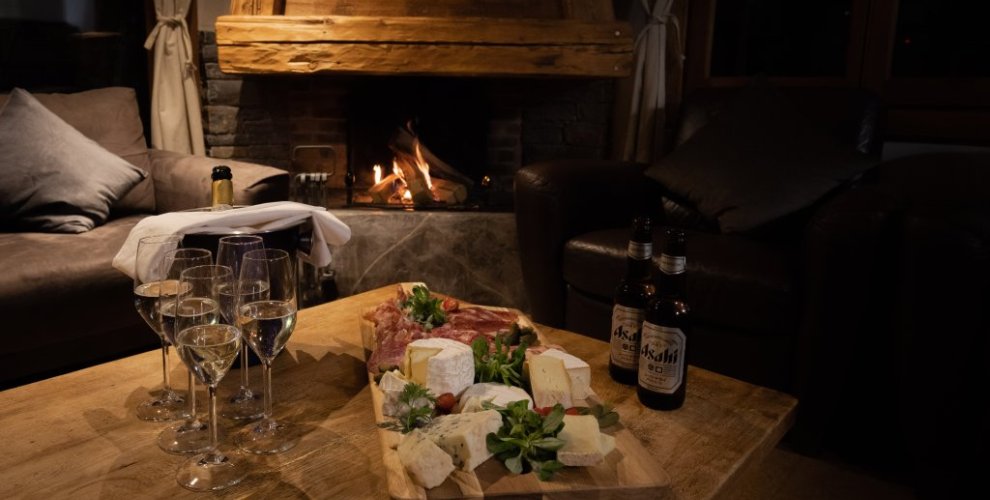 Short on time away from the office?
Due to it's proximity to Geneva, Morzine is one of the most popular spots for short ski breaks, and when combined with early arrival and late departure flights, you can cram a lot of on-piste action into your short time away from the office, with 3 full days of ski time available on a 3 night long weekend ski break.
Atlas Ski Co offer 3 & 4 night stays throughout the season, with Thursday - Sunday Long Weekend Special and Sunday - Thursday Midweek Specials available. Read more about our short ski breaks HERE, with draft itineraries and ideas on how to spend your limited time on the slopes.
Skis delivered to your door while you sip champagne
If you have your own skis and boots, you'll know how nice it is to avoid hire shops, and that's why we've partnered with Doorstep Skis, a premium ski hire company who deliver straight to your chalet while you relax with canapes and champagne. Whether you're treating the highest performers in your company or nurturing client relationships, setting the right tone early on is so important to making the most of your time on a corporate ski retreat, which is why we believe that this is really the only way to do ski fittings! Read more about Doorstep Skis HERE.
Beginners and Experts alike can enjoy Morzine
Getting the balance right when it comes to group bookings can be tricky, with some members chasing fresh powder and backcountry touring, and others working on turning pizzas into chips (snowplow to parallel). You'll find the slopes of Morzine to be accommodating for both levels - and anyone in between. Situated in the heart of the vast Portes Du Soleil region, with 650km of pistes to explore spanning France and Switzerland, the more adventurous can take on the Portes du Soleil Circuit or the infamous Swiss Wall (accessible from Avoriaz in France or Les Crosets or Champery in Switzerland), one of the steepest runs in skiing.
If that doesn't sound like your usual day on the slopes, the tree-lined, scenic runs around Pleney or the wide open pistes of Avoriaz offer amazing skiing close to the hub of Morzine. And what's even better? The (rumoured) soon to open Folie Douce on Pleney will join an existing one in Avoriaz, so wherever you ski, you'll be close to a bucket of champagne and pumping apres ski.

Fancy a down day from the slopes?
We've operated out of Morzine for over a decade, so know the town and its operators intimately. If you want to book night lugeing, or snow yoga, or take a day off and have in-chalet massages, our team can find the right people through the relationships we've built.
Apres Ski in Morzine
Talking of Apres Ski, it's not just what goes on on the slopes that will have everyone loving Morzine…
Morzine is a true town, with a thriving local scene and arguably one of the biggest summer destinations in the Alps thanks to its status as a mountain biking mecca (check out our summer operation Atlas Ride Co if mountain biking is your thing). This all adds to Morzine's repertoire of apres bars to suit any corporate group, whether it's mountain top champagne at La Folie Douce, relaxed cocktails at Le Crepu, or late-night dancing at L'Opera.
The food scene is just as good in Morzine, with high-end restaurants such as La Chaudanne, home to over 350 wines and a sommelier to help you pick, or La Ferme de la Fruitère, a traditional restaurant specialising in Savoyard cheese dishes. Of course, guests of Atlas Ski Co benefit from a 3-course meal prepared by a professional chef 5 nights a week, but we're on hand to make that special booking on chef's night off.
Sampling The Local Apres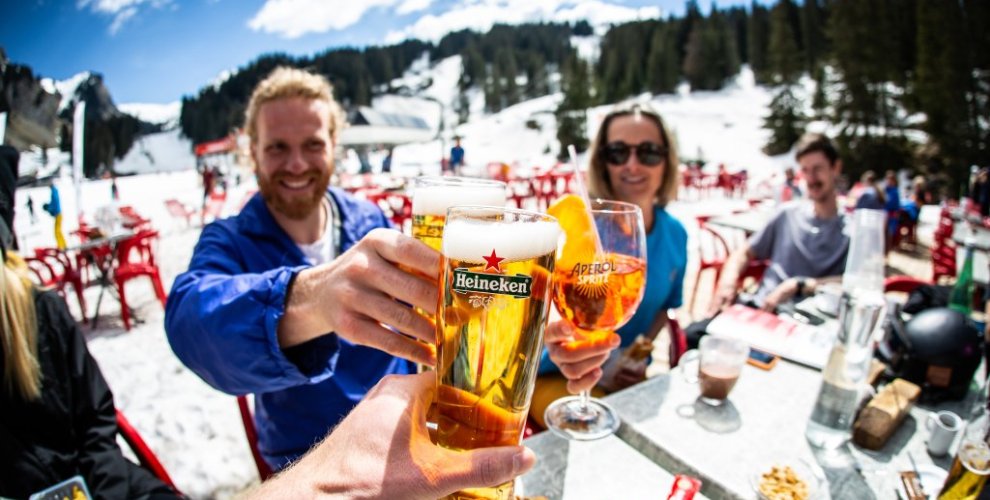 And the Shopping in Morzine?
Without being super-chic and high-end, Morzine offers discernible shopping for visitors, with many ski shops, homewares and fashion retailers to choose from, perfect for gifts or that new ski jacket to mix in with the Morzine crowd.
Why Atlas Ski Co for our Corporate Trip?
Flexibility is key when booking for large groups. We've learned this by operating in the Alps adventure holiday scene for over 10 years. Our Chalet Atlas is perfect for off-site corporate trips, with large communal areas suitable for board meetings or team building activities, as well as 14 twin rooms with ensuites capable of sleeping up to 28 guests when combined with the adjoining Atlas Sky Apartment. Rooms can be configured in twins or doubles, so no matter what the makeup of your corporate getaway, Atlas Ski Co can accommodate you.
Atlas Ski Co can also offer private Airport Transfers and Resort Shuttle Services, getting you around the resort and maximising your time in the resort.
Atlas Lodge sleeps up to 28 when combined with the Sky Apartment