A week's skiing in Morzine offers plenty of options for skiers of all levels, from beginners right up to experts, and from young park shredders to "experienced" tele-skiers in fluro retro one-piece suits (and not as part of an ironic outfit).
Morzine sits at the heart of the Portes du Soleil, a vast ski network spanning France and Switzerland with 650km of groomed pistes, making it the largest interlinked ski area in the world. When it comes to Alpine, on-piste skiing, there's everything from low-lying tree-lined runs into the picturesque Morzine and Les Gets (great for when the weather closes in), to high-altitude glacier skiing in Avoriaz (as snow sure as it gets), as well as day-long adventures that can see you have lunch in Switzerland, only to return in time for a demi-peche aperitif in France.
If bashed pistes and only going downhill aren't your thing, there's Nordic loops, snow parks for the groms and shredders (and even a Superpipe) and plenty of off-piste for those wanting to enjoy the breathtaking quietness of the off-piste powder.
Arare Snowpark in Avoriaz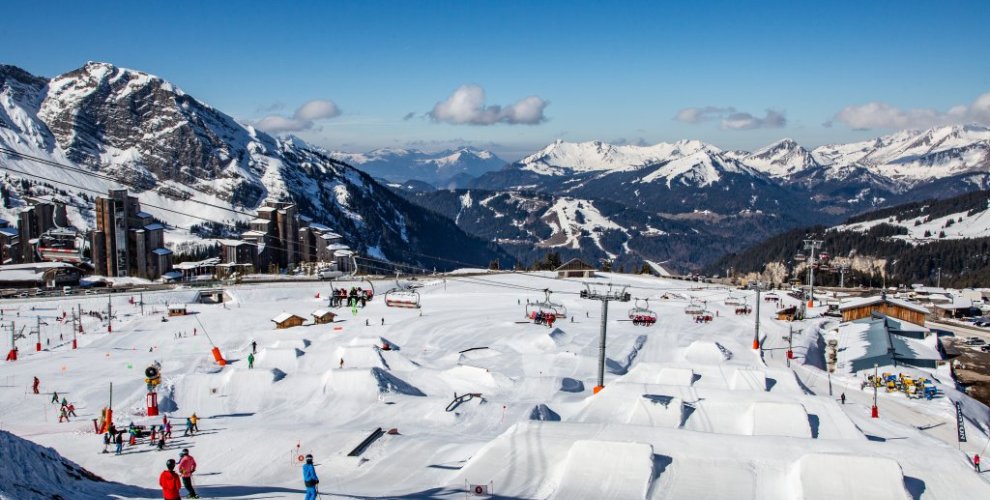 Snowparks in the Portes Du Soleil
There are 11 snow parks across the Portes du Soleil region, including an elite level Superpipe for those after such a thing. Our favourites to check out are below;
The Stash by Burton
Found in Avoriaz, The Stash, the first park of its kind to open in Europe, is comprised of flowy natural terrain to air off and wooden carvings for jibbing. Updated yearly this place is always fun. And for the nippers in the group, there's The Lil'Stash to explore too.
The Mont-Chéry Snowpark
Above the neighbouring town, Les Get, you'll find the Mont-Chéry Snowpark, which along with it's usual mix of boxes and rails aimed at beginner to intermediate park shredders, you'll find some of the best far-reaching views of the whole Portes du Soleil.
The Arare Snowpark
Known as the "Big Park", Arare offers more sizable and technical features. There's several red kickers, and a large black kicker at the bottom. Want to race your mates? You're in luck, as there's also a boardercross track running alongside the track.
Nordic Skiing in the Portes Du Soleil
Without going into every cross-country loop across the Portes du Soleil (there are more than 60km of routes, so plenty to choose from), we'll focus on those closer to Morzine.
From the Pléney cable car, you can access the Pléney-Chavannes area which is a 6km loop at 1500m, guaranteeing excellent snow. With 360° panoramic views of the Mont Blanc range, this sunny area is definitely worth checking out. Food and drink options are available in the area too.
The biggest Nordic ski area in Portes du Soleil region is to be found near Super-Morzine/Avoriaz (accessed via the Morzine lift system). This area has 45km of Nordic bliss at your ski tips, ranging from green to black slopes. With so many km to cover, you'll need refuelling, but worry not, there are plenty of options nearby. For a full list of mountain top food spots, click HERE.
A bit further afield, and accessed by car or free shuttle, Lac Montriond is a favourite swimming spot in summer, but in winter transforms into a scenic nordic/walking route around the lake (the 3rd largest in the Haute-Savoie region). It's with a word of warning to wrap up warm on this loop, as parts of it are in constant shade due to the imposing cliff faces. There are inns and bars at each end of the lake to warm up again, either with a fondue (a Haute-Savoie speciality), or maybe a Vin Chaud…

Big carves in fresh powder anyone?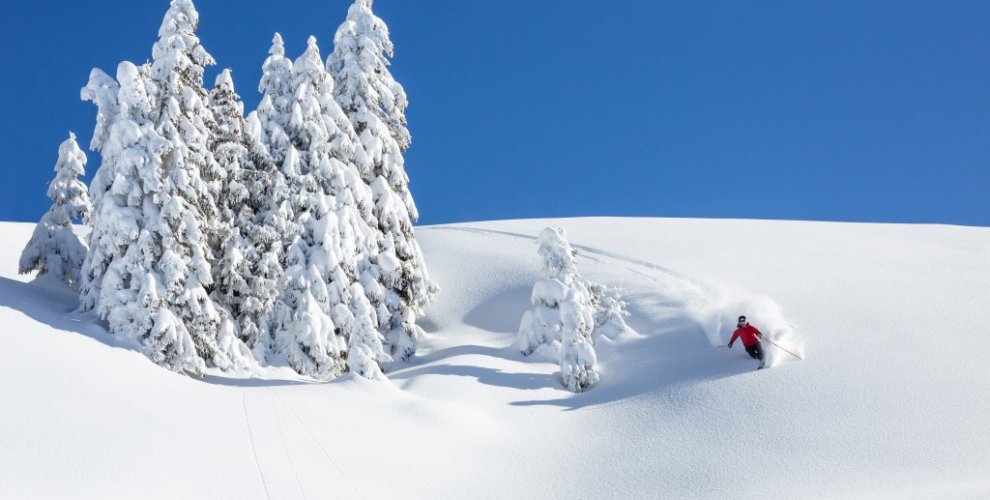 Off-piste in the Portes Du Soleil
If you're an advanced skier and don't fancy a day on one of 650km of groomed pistes, making the Portes du Soleil the largest connected ski area in the world, then there is plenty of off-piste adventure to be had.
It goes without saying that off-piste skiing comes with inherent dangers, so we strongly advise you take all the proper precautions and would recommend a guide to show you all the best and safest spots. Check out our recommended guiding and instructors HERE.
There is plenty of off-piste skiing in easy reach of the Portes du Soleil lift network.
Morzine and the surrounding area of Portes du Soleil has so much variety that no matter what discipline you're into you'll find the right place to get stuck into it. And if you're yet to try any of the above, we're on hand to recommend local instructors to show you the ropes.
Want to book ski lessons or guiding in Morzine?
Booking ski guiding at the start of the week can be a great way to get your bearings in a new resort or find some new hidden gems for returning guests. We work with only the best ski instructors and guides in Morzine and the surrounding towns of the Portes Du Soleil, so whatever type of skiing or snowboarding you are at, and what type of terrain you want to ski on, we can put you in touch with the most suitable guides. Take a look at our Guides and Instructors page for our recommendations.
CONTACT US to book your ski lessons and guiding in Morzine.