As winter approaches the excitement around the Morzine and Portes Du Soleil winter ski season grows. Morzine is one of the most popular ski resorts in France and is part of over 650km of pistes for skiers and snowboarders to enjoy. A lift pass for the Portes Du Soleil allows for skiing and snowboarding across the Swiss-French border with just one lift pass. With 165 lifts covering almost 150km of alpine mountainside, it's not hard to find somewhere new to explore in Morzine and the Portes Du Soleil, even for the returning skier.
When do the ski lifts open in Morzine?
The Portes Do Soleil winter lift season opening dates have been set, with Avoriaz expected to open on the weekend of 9/10th December and Morzine & Les Gets confirmed to open on the 16th of December. Skiing is of course snow/weather dependent and could vary on either side depending on snow conditions at the time. In 2023, Avoriaz actually opened 2 weeks earlier than expected due to good snowfall.
Lift Opening Dates 2023/24 Winter Season
| Lift Area | Opening | Closing |
| --- | --- | --- |
| Morzine & Les Gets | 16th December 2023 | 07th April 2024 |
| Avoriaz (not yet announced) | 9/10th December 2023 | 20/21st April 2024 |
What lift pass options are there in Portes du Soleil?
There are 3 types of lift passes available in the Portes Du Soleil - A full Portes Du Soleil, Morzine & Les Gets and Avoriaz only - however if you wanted to explore Avoriaz while staying in Morzine, you would be better to buy a full Portes Du Soleil pass as there is very little price difference compared to buying a Morzine & Les Gets 6 day pass plus an Avoriaz one for a couple of days.
Skiers enjoying the pistes of Morzine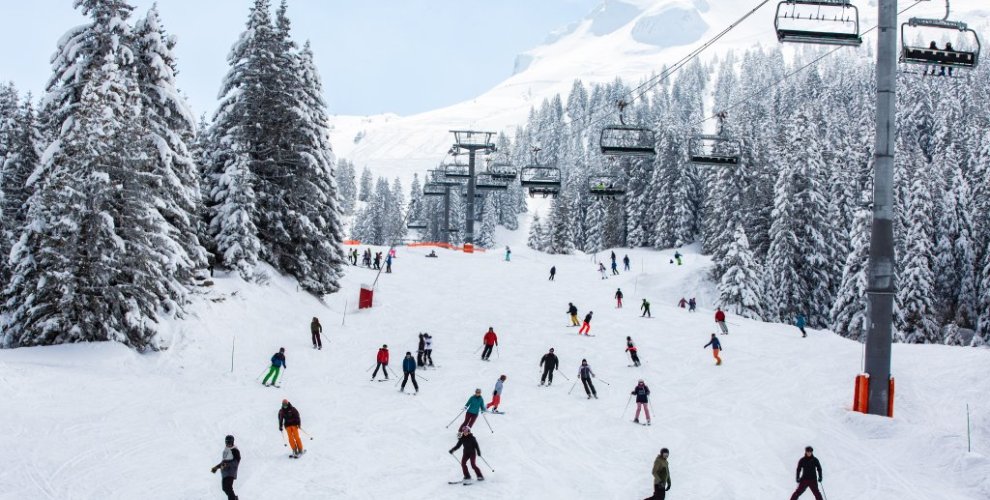 How much does a lift pass cost?
Portes Du Soleil and Morzine & Les Gets lift passes are available per day, for the weekend, or for just 5 hours, giving you so much flexibility. See the table below for the popular options and the prices. Please note that buying online is cheaper than in resort.
Atlas Ski Co are able to access a discount of 10% on the prices quoted below, so contact us to discuss which ski pass suits you the best. Some guests want to ski all 6 days, others prefer to have a rest day or only ski half the week and take in some of the other many non-skiing activities Morzine and the Portes Du Soleil offers.
Ski Pass Prices 2023/24 in Morzine-Les Gets
Per person
(€)
Adult
26-64 yrs
Child
5-15 yrs
Junior
16-25 yrs
Senior
65+ yrs
ONLINE
RESORT
ONLINE
RESORT
ONLINE
RESORT
ONLINE
RESORT
1 Day
46
51
36
40
40
44
44
48
3 Days
132
141
99
111
111
123
123
132
6 Days
252
276
192
216
216
240
240
248
Weekend
68
70
64
70
68
70
68
70
Portes du Soleil Ski Pass Prices Winter 2023/24
Ski Pass Prices 2023/24 in Portes du Soleil
Per person​
(€)
Adult
26-64 yrs
Child
5-15 yrs
Junior / Senior
16-25 yrs / 65+ yrs
ONLINE
RESORT
ONLINE
RESORT
ONLINE
RESORT
5 Hours
58
61
43
46
52
55
1 Day
64
68
48
51
58
61
3 Days
183
195
137
146
165
176
6 Days
324
342
243
257
292
308
Are there any deals for Morzine lift passes?
The Portes Du Soleil lift pass currently has a couple of options available to buy discounted lift passes. There will is currently a 15% early bird discount available if you are visiting Portes du Soleil, available until the 17th November 2023.
Outside of these dates, if you book for 4 or more people for 4 or more days in one area, you'll receive a discount of 10%.
If you're still unsure what deal might be best for you, when booking through the Morzine website, the best deal will automatically apply.
Can Atlas Ski Co organise my lift pass?
Of course! For guests staying at one of our self-catered or catered ski chalets, Atlas are on hand to help book your lift passes and offer advice on which option to go for depending on what level of skier you are and how much skiing you want to do over the course of your stay. Plus, buy your pass through Atlas Ski Co and it will be waiting for you in the chalet, so all you have to do is turn up, enjoy a drink and get settled in, avoiding all queues.
Enjoy this while you're lift passes are delivered to you