Winter has well and truly arrived in Morzine, Avoriaz and Les Portes Du Soleil, with Avoriaz opening their ski area for the weekend of the 3&4th December early for anyone lucky enough to be in the area early to enjoy some fresh snow. With most of the Atlas Ski Co team already in the resort, we were able to get up and get a first-hand look at the snow conditions and grab some pictures of the stunning landscape for your enjoyment.
Avoriaz Opens Early
The high-altitude resort of Avoriaz is well known for its reliable snow record and opened this past weekend (3&4th December) for some pre-season skiing, as well as being ski tourable for the past week if you're willing to hike for it. People from all over the Morzine and Les Gets area made their way to Avoriaz to enjoy the quiet pistes, it really felt like winter has arrived!
Book that last minute December ski trip and enjoy the fresh snow
With the snow falling in the resort the excitement is building and surprisingly we still have a few properties available for Early December and Christmas weeks in Morzine. So why not book those extra days off work and just on a flight and enjoy some amazing early-season skiing in Morzine and the Portes du Soleil
See December Ski Deals - HERE
If you are still undecided on your Christmas plans then we have a fully catered week available in our Flagship Chalet Atlas at £679 per person including all the trimmings.
See Christmas Ski Deals - HERE
Snowy Landscape in Avoriaz and Portes Du Soleil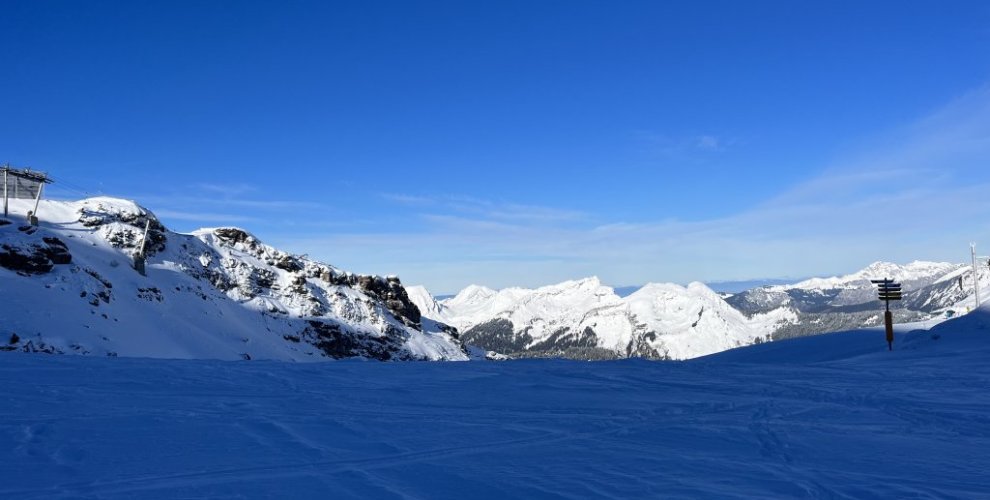 Morzine town gets early December snow
Avoriaz isn't the only town receiving snow at the moment, with big dumps of snow falling in the town of Morzine itself! Sitting lower than Avoriaz, Morzine typically receives less snow throughout the season, and with only the bottom of Le Stade, Retour des Nants and Piste B ending in Morzine it doesn't need as much snow in the town itself for the skiing to still be great, but snow-covered fences and crunching underfoot fills everyone with giddy excitement, even locals who have seen it all before!