Nestled in the French Alps, about an hour from Geneva, Morzine offers varied skiing within the larger ski area of Les Portes Du Soleil, a cross-border ski area with French and Swiss villages linked by over 650 km of marked pistes.
Morzine is a traditional French town, steeped in history and functions year-round, creating a very popular winter holiday destination. It has mountain lakes, cute French restaurants, modern lift infrastructure, a huge ski area, high-altitude pistes, great bars and restaurants and a very buzzy atmosphere that keeps people returning year after year.

With famed ski runs such as the Swiss Wall in Avoriaz, one of the steepest pistes in the world, to challenge expert skiers, as well as wide and gentle pistes to cruise and take in the views of Mt Blanc, Morzine and the Portes Du Soleil truly does have something for everyone. And with its proximity to Chamonix, big back-country days on Mt Blanc are within easy reach.
Travelling to Morzine
The abundance of skiing and the resort itself aside, part of the reason that Morzine continues to grow in popularity is just how accessible it is from the UK. Geneva is just a short hour and a half drive from Morzine, and with Geneva International Airport being a major transfer hub, there are multiple daily flights from nearly every major UK airport, either with EasyJet, British Airways or Swiss Air. It's completely feasible, and not exaggerated, to be able to leave the office at 3 pm, get a flight at 6 pm, and be in the resort at 9 pm. There aren't many resorts you can travel to so effortlessly, which is part of the reason so many people love Morzine for short ski breaks.
You can read more about travelling to Morzine HERE.

Time on the slopes - where to discover
A 4-night stay doesn't sound very long, but when you break it down there is ample time to explore on a set of skis. With lift passes waiting for you upon arrival, as well as skis delivered and fitted in the chalet by Doorstep Skis, you'll be set to go on morning one. Combine this with booking a late flight home to get one final morning in, and in a 4-night stay, you can ski for 3.5 days. That's without the luxury of an early arrival around lunchtime on Day 1 - if flights from your local airport allow - to squeeze in a couple of runs in the afternoon.
Example Itinerary
Night 1 - Arrival
Morning 1 - Avoriaz & Lindarets
Afternoon 1 - Mossettes, Cases & Fornet
Day 1 can start fairly chilled. Head to Avoriaz via Super Morzine and take a couple of relaxed runs into Lindarets, either via the Stash or not. After a spot of lunch, you can head up to Mossettes, one of the highest peaks. With multiple long runs (red and blues) back to the Mossettes lift, you can then traverse across to Cases lift and onto Fornet in the afternoon.
Night 2
Morning 2 - Avoriaz, Switzerland & Chatel (note, need a full Portes du Soleil lift pass to access Switzerland and Chatel)
Afternoon 2 - Folie Douce (or more skiing...)
Up early and again head to Avoriaz, this time straight up to the top of Mossettes (Cookie Cafe is a good place for a coffee at this point). Then drop into Switzerland to explore that side of the ski area. Please note you will need a full Portes Du Soleil ski pass, so make sure you have this before starting the descent.
Once you've explored Switzerland, head back to Avoriaz and the Folie Douce for a late lunch and a few Aperols - you've earned it!
Night 3
Morning 3 - Mt Chery
Afternoon 3 - Les Gets
Day 3 you'll explore the other side of the valley. This time heading up the Pleney gondola and across to Les Gets. Once into Les Gets, a short walk across town to Mt Chery gets you into a really quiet part of the mountain and a bit of a hidden gem. Return to Les Gets for lunch, before enjoying the pistes of Les Gets in the afternoon. You can easily return to Morzine via skis from here too, before a quick stop at Tremplin bar at the bottom of Pleney for a spot of Après.
Night 4
Morning 4 - Pleney
Afternoon 4 - Depart
This is a bonus morning, but we've suggested Pleney as it allows you to always be close to the chalet to collect your belongings and catch your flight.

Join Atlas Ski Co on the slopes on Morzine this March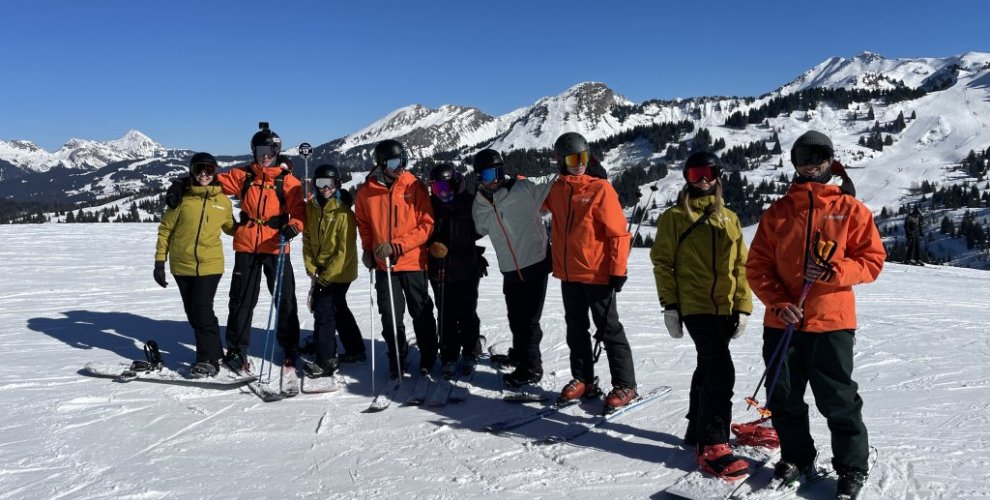 Day Trip to Chamonix
For any serious skier that is always craving that extra bit of adventure, you could also consider adding a day trip to Chamonix into your short stay in Morzine. About 1h30 from Morzine, Chamonix offers big mountain skiing, as well as tourist attractions such as Aiguille du Midi cable car to the top of Mont Blanc. If it's off-piste skiing you're after, our partners Season Guiding are based in Chamonix, so know the area intimately and are able to put together a descent that will live long in the memory.
And what about the evenings?
Morzine is a vibrant town, owing in part to its year-round tourism industry. A traditional French mountain town, Morzine has many bars and nightclubs to suit any night out, whether it's apres at Tremplin, cocktails at Crepu, pints and live music at Cavern, live sport at the Irish bar, Dixies, or late-night revelry at Cafe Chaud and Opera, Morzine has it all.
And it isn't all party bars and late nights; local craft brewery, Le Bec Jaune serves specially-brewed craft beers with a small dinner menu of local-sourced ingredients or Hideout, serving Asian-fusion food.
Of course, staying at Chalet Atlas or Atlas Sky Apartment means you'll be served 3-course meals prepared by professional chefs, with dishes such as BBQ Pork Belly or 6 hour Lamb Shoulder on the menu. However, even the best chef's take a night off, and this allows you to explore the many great restaurants in town, our favourites being L'Etale or La Rotonde in town, both serving a wide range of dishes, everything from pizza or steaks, to traditional French bistro dishes.
Not everyone's a skier - what to do in town
There are plenty of activities to keep the whole group entertained in Morzine, even for those not wanting to ski or snowboard. Every Wednesday throughout the season the Morzine Penguins host an exhibition Ice Hockey match, as well as league games every 2 weeks. There is an outdoor ice rink in town, as well as indoor swimming pools in both Morzine and at Aquariaz in Avoriaz, which is a tropical theme. If it's relaxation you're after, Mountain Rehab offers in-chalet massages. We can also help arrange spa days and yoga classes. If you want to be outdoors enjoying the stunning mountain scenery, why not borrow a pair of our Atlas SnowShoes and enjoy a scenic hike, taking in the fresh air and mountain solitude?
You can read THIS BLOG for more ideas of what to do in Morzine.
Why March is our favourite time for short ski breaks
March is our favourite time of year to ski in Morzine. The days are longer, the lifts open later, and when the sun is out, the mountain top restaurant terraces are just bliss.
After the rush of February, enjoy quieter slopes and shorter lift queues. Once you've navigated away from the main lifts, it can feel practically empty with wide pistes and empty chairs.
There is nowhere better than a restaurant terrace in the alps after a hard morning skiing. With the warmer weather, you may just want to kick back in the deck chair, soak up the mountain sunshine and spend the afternoon sipping Aperol Spritz.
Longer days equal lifts running later, so you can squeeze that extra run or two in and still have time for a long lunch!
Peak February may be over, but the resorts still have so much life left! With music festivals, skiing competitions and more, there is so much to do and see for everyone during March. Check out our events guide HERE.
Want to book a short ski break?
Take a look at our deals in March HERE. We have several short-stay deals in early, mid and late March, for small and large groups.
Or, contact our friendly team to discuss your short ski trip.