Self-catered ski holidays provide a different experience to fully catered chalet ski holidays. They allow more flexibility, can be cheaper for the savvy-holiday-hunter and the range of accommodation available is usually much more varied. You might not have a host or your own private chef but you do have the option to stay out from Après to Midnight and eat all the pizza you can find instead. The choice is yours!
Friendlier on the budget
Self-catering offers a more budget-friendly alternative, even if the property has a private hot tub like Chalet Five25 or a private balcony overlooking Morzine like Apartment Zore, going self-catered is typically a cheaper alternative than hotels or catered. Plus, you are in control of the grocery shopping and wine list.
Want to splash out a little bit? Atlas Ski Co can still help organise meal delivery services or private chefs to take the stress off for an evening or two.
Ultimate Flexibility
Set meal times aren't for everyone. For some people, dinner time at 7pm with none of the hassle is the ultimate relaxation, but for others, the choice of staying out at Après a bit later and picking up a pizza or deciding to come home early from the slopes and relax with an early dinner and cosy night in front of the fire are more important. And it's for the latter that self-catered works perfectly. You can eat when and what you want, allowing you to make the most of your ski holiday.
Family time is important
Want a family games night or a big family dinner? Spending time with your family or groups of friends is precious, and what better place to do it than in an alpine chalet?! You can create memories that last a lifetime when you can relax in the privacy and comfort of your own space. One of my favourite ski holidays ever has memories from silliness around the dinner table and all chipping in together with family friends that are still talked about now. Taking it in turns as a family group to cook and provide dinner creates bonds and memories that can go far beyond being served a wonderful dinner at a hotel.
Beyond those top three reasons, self-catering allows you to authentically experience the resort and live like a local, shopping in the local supermarkets, picking the local French lagers or finding your favourite boulangerie for a croissant.
Choosing self-catered doesn't mean you have to fend for yourself completely (unless you want to of course!). Through years of experience and living in Morzine, we know the best spots in town, as well as having great connections in the community. Below are a few extra services we can offer for self-catering, but if you want something you don't see, get in touch and we will also see what we can do to make it happen.
Resort Concierge
Want to book a special restaurant for a treat or maybe a massage to help unwind after the stresses of skiing? Our resort concierge service can book you tables at restaurants in town, organise grocery deliveries for when you arrive or maybe help organise a birthday cake and decorations - contactable through a WhatsApp message, Atlas Ski Co are there to help with your holiday where you need it.
Meal Delivery Service
In partnership with local chef Damian McArthur, Atlas Ski Co are on hand to provide home-cooked dinners delivered directly to your chalet, just needing re-heating before you enjoy. With favourites like Roast Pork, Lamb & Spinach Curry and Chicken, Bacon & Leek Pie, as well as veggie options, on the menu, you can enjoy great quality, professionally prepared meals in the comfort of your own ski chalet. Bliss.
Want to pair it with some wine? Our very own sommelier and co-owner, Ben, is happy to provide recommendations from our wine list. What's better? We'll even deliver the wine to you! (minimum orders may apply).
Find out more information and menu options HERE.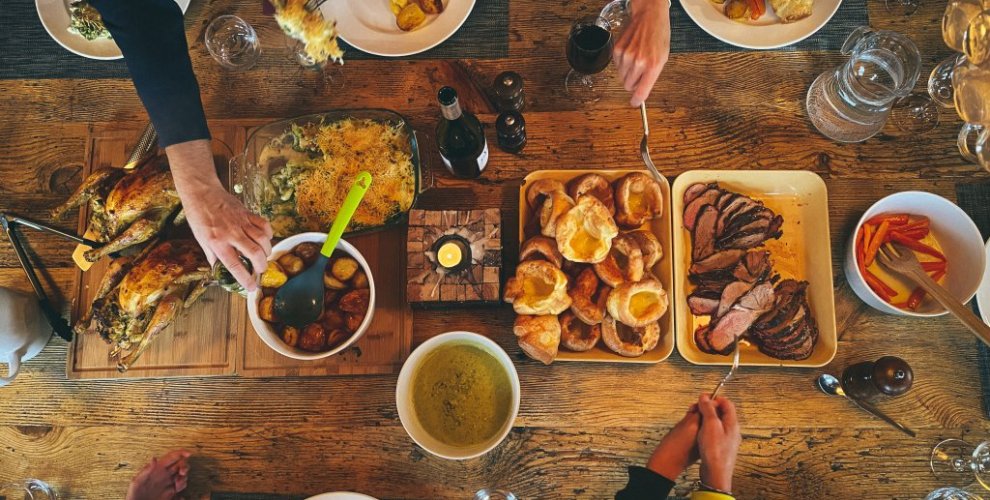 Resort Shuttles
Available on an ad-hoc basis, our Resort Shuttle Service gets you from your chalet to the slopes with zero hassle. With set pick up and drop off points around the resort, simply text the resort concierge service and we'll be with you as soon as possible.
For more information about the Resort Shuttle Service, click HERE.
Atlas Welcome Hamper
We can organise pretty much anything once you're in Morzine, but we've also got you covered from the moment you arrive, with wine, beers, crisps and snacks, as well as kid's snacks available on request, you can say cheers to your holiday straight away! Got an extra special reason to be staying with us? Drop us a message beforehand and we'll see what we can provide to make your arrival even sweeter.
Not only are welcome treats covered, but your chalet will also be covered with the basics of milk, tea, coffee, bread, and some store cupboard essentials. Self-catering lovers enjoy having their freedom, but if we're honest, the big grocery shop is something most people are happy to skip! You can do your shopping through Carrefour, and we'll collect and deliver your groceries to your chalet ready for your stay.
Need something last minute? All of our properties are located close to Morzine's smallest supermarket, so those extra pain au chocolats are only a short dash away.
The Extra Extra's...
On top of the above, we can also help with Ski Lessons and Guiding, Equipment Hire, List Passes, Childcare and more when you have booked with us.
See more Ski Extras HERE.