Unless you plan on staying in a comfortable chalet - such as Basecamp Lodge - sipping Vin Chaud all week, skis and boots are vital pieces of equipment. Now, the general consensus is to rent both Skis and Ski Boots for the first time certainly, and maybe a trip or two after that, but at that point, you'll generally be thinking about whether to take the plunge and buy some. As ever, there are pros and cons to both options, so in this blog, we'll try to lay out arguments for both and shed a little light on the topic.
Hiring Skis and Ski Boots
As stated, when you're starting out, it's wise to rent. You don't know if a skiing holiday will be right for you (although from experience, we're confident it will be). There is also a lot information to take in when booking a ski holiday, like how snow sure the resort is, is it good for beginners, where's the best bar… that sort of thing. There is also a lot of equipment to buy, most of which isn't really suitable to rent, so it's sensible to rent the easily available skis and boots through trusted partners, like Doorstep Skis.
At Atlas Ski, we've partnered with Doorstep Skis, a service that sees premium equipment delivered directly to your chalet after you arrive. You provide height, weight and information about your ability and what you like to ski, and they will do the rest, meeting you at your accommodation to go through the fitting process. They use the latest stock in their hire fleet, so this is also a good opportunity to get to know different brands and styles of equipment if you're thinking of buying soon.
Buying or Hiring Ski Boots
The first step of the buying process is usually boots. Skiing is tough on the legs, and can be sore on the feet too. As the only connection to you and the skis, a well fitting pair of boots is essential for progression. If you have ever experienced a poorly fitting ski boot that creates sore spots, you'll know it can ruin a day, and in some cases can put people off returning. Hire boot stock at large ski shops is usually of pretty poor quality, made for the mass market - ie, wide deep feet so more people can fit into them - and generally different models to the actual retail stock. This, coupled with the new-to-skiing customer's lack of awareness of what a good fitting boot should feel like, and their eagerness to hit the slopes, often leads to a rushed fitting and just making do.
Now, a partner like Doorstep Skis helps to alleviate this by setting aside enough time to get it right and in the comfort of your own chalet, however, when compared to the 2-3 hours it might take at a ski shop when buying a pair of boots from a wall of multiple brands, the fit is reflective of the extra options and fitting devices available.
Once you're confident that skiing is for you, and you're ready to buy a pair of boots, we recommend doing so. You'll typically spend 2-3 hours being fit, and this will involve taking measurements of width, length, volume, heel profile and potentially 3D foot profiles. Then, the fitter will select several brands that typically match this profile, narrow it down based on level of skiing, before ending with a shortlist to try. From there, there are options of which footbed to opt for and whether or not to get one made, as well as to adjust the boot liner or not for that perfect fit.
In terms of fit, there aren't many downsides to owning your own pair. The biggest drawback is luggage on flights, however with careful packing (we like to pack socks and thermals inside the boots), you can maximize the packing potential of the ski boots.
Like with everything, prices vary greatly in boots, but as a guide, between £250 and £350 should get a good quality pair that will last and grow with you as you progress.

Ski Fitting at your chalet with Doorstep Skis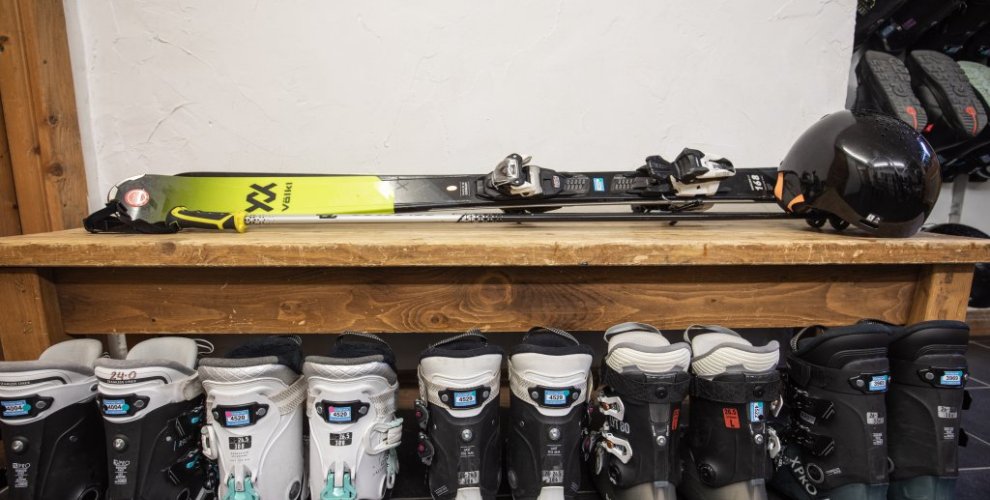 Buying or Hiring Skis
The decision to buy skis is generally a tougher call. The major drawback is the initial outlay, but there are extra costs to owning skis as well, like maintenance and travel/luggage costs, plus ski bags to facilitate this. If you're skiing once a year, it may work out cheaper to continue to rent (if we assume the skis you buy have a life cycle of about 4 / 5 years before a new pair is bought), but if you're skiing twice or more, then owning generally works out cheaper.
Owning skis means that you can really get to know a pair of skis, as well as set them up exactly how you like them. This takes time to understand, but the reward can be great knowing that you have a perfectly waxed set of skis, with the bindings that you love and nice sharp edges. For some the maintenance is a chore, for others, they love it and it's part of the hobby - it's really down to personal preference.
On the flip side, hiring can allow you to pick and choose what set of skis - freeride, park or racing - you want to try this week. That is, of course, unless you own multiple sets of skis but that's another debate! Hiring also allows you to always ski the latest models as hire shops' fleet of skis matches the retail version generally, unlike boots.
It's also important to consider insurance on both hired and an owned pair, as outside restaurants is a stack of skis that all look similar, so often through no fault of anyone skis can go missing.
PRO TIP: When leaving skis outside restaurants at lunchtime, team up with a friend and split the pair in half so you have a mismatched pair of skis standing there, which limits people picking them up by mistake!
As you can see there are many points to consider with buying a pair of skis, so take your time, reflect on each positive and negative, and find a shop whose advice you trust if you decide to buy a pair of skis.

Skiing with Atlas Ski
As we mentioned at the top of this blog, we've partnered with Doorstep Skis to bring you great quality skis and boots direct to your chalet while you sip on a drink. Doorstep Skis take the hassle out of hire shop queues and airport luggage belts if you were to own your equipment. When booking, let us know you wish to hire, and we will make the arrangements so everything runs smoothly when you get to the resort.