Atlas Ski Co is the sister company of Atlas Ride Co, a dedicated Mountain Bike Holiday Company who have been delivering holidays across the UK and Europe on two wheels since 2013. Born from a passion for riding bikes and established in the mountain bike mecca of Morzine located in the French Alps. Owned by Ben and Rich who are avid riders and dedicated to the detail and the quality of every ride they put to market.
With a team of over 20 staff in the summer months, and 5 full-time staff based in the UK and Morzine. Atlas Ride Co now delivers Mountain Bike Holidays for 12 months of the year in destinations such as the French Alps and the Scottish highlands.
Some of the finest MTB trails in the world
Born in Morzine in 2013
Born in Morzine in 2013 Atlas Ride Co is located in Europe's largest bike park offering over 60 downhill trails, 25 chairlifts and a buzzing town full of shops, bars and restaurants. Morzine Bike Park is open for 4 months from June - to September and you can see the lift opening dates and summer mountain bike lift prices passes here.
Morzine is a part of the larger Portes du Soleil area which consists of 7 resorts spread across two countries in the summer including Morzine, Les Gets, Chatel, Morgins and Champery to name a few. The area has a vast array of trails from green and family trails to red and black pro-level trails.
Located only 1 hr and 30 minutes from Geneva airport getting to Morzine is easy. Atlas Ride Co offer a variety of mtb holidays and accommodation in Morzine ranging from their fully catered Riders Week packages consisting of professional chefs and mechanics on site. Then you have their accommodation-only options with self-catered apartments and hotels. Morzine really is the complete mtb holiday destination if you are looking to perfect your skills in the bike park and take advantage of the impressive lift infrastructure and facilities.
The Mountain Bike Mecca of Europe
Morzine is one of the most famous downhill mountain bike destinations in the world with many professional athletes choosing to spend their summer between racing the World Cup circuit in Morzine due to the incredible trails and great town vibe that Morzine has.
Atlas Ride Co has been offering holidays in Morzine for over a decade and they know exactly what their clients want. Some of their clients are riding in the mountain for the first time and some are returning for the 10th time. Providing additional services for the clients is vital. From hire and demo bikes with full mechanic service to day trips across the border into Italy, they offer it all. A day riding in Pila or La Thuile bike park in the Aosta Valley is a great way to break up your MTB holiday in Morzine. Italian food and coffee are hard if not impossible to beat!
There is so much more to do in Morzine than just riding mountain bikes with the deep alpine lakes for paddle boarding and endless hiking and climbing trails in the lush green mountains even if you do not ride bikes you can have an incredible alpine holiday in Morzine. With a large outdoor skate park, tennis courts, mountain luge and high ropes at the top of the trees, you can have an amazing family holiday also.
Fun for all the Family
There are quite a few kids in the ARC family now and they have some tried and tested kids entertainment ideas that you can take advantage of. Their chalet Five25 is very family friendly located in the very heart of Morzine. With children-friendly menus, toys, kids' bikes and even childcare services you can take the whole family.
If you are driving down to Morzine this will take you about 8 hours once you reach Calais, one advantage to driving is that you can throw all of your kit in the car/van including any wet weather equipment including spiked tyres and waterproofs. Why not also throw in the skateboard and BMX if you have space and take advantage of the skatepark in the centre of town?
So what is the mountain biking like in Morzine
Super Morzine - Avoriz
Super Morzine is all about the berms and the jumps, it is usually super smooth and has a lot of flow, the blue and red trails s and the perfect warm-up for a week's holiday, but always remember to build up your confidence slowly. There are also some excellent black-grade trails on Super Morzine such as Hattok with roots, gaps and jumps. But the red and blues make sup the majority. Dont forget to check out the serroset side and lift also.
Morzine Bike Park and Le Pleney
Possibly the most famous hill on earth for steep, technical and natural mountain bike terrain, you have 10's of steep natural trails built by the local that bring riders from all over the world back to Morzine every year. There is also the blue, red and black main line. Mainline was built by Roger Mandain about 30 years ago and has well and truly stood the test of time.
Chatel, oh Chatel
Jumps, berms and steep black trails on steroids, very very different to that of Super Morzine. Take your DH bike and full face helmet for this palace. Home to some of the biggest berm ever built on Vink line and some of the biggest gaps in the Alps on Air Voltage. Enjoy.
Les Gets Bike Park
A little bit of everything over this side of the hill, from World Cup tracks to family friendly Green trails. It has the full package, it is not famous for any particular style of riding but there are some very good natural enduro trails just out side of the bike park including Colorado!
The view from Mt Chery of Mt Blanc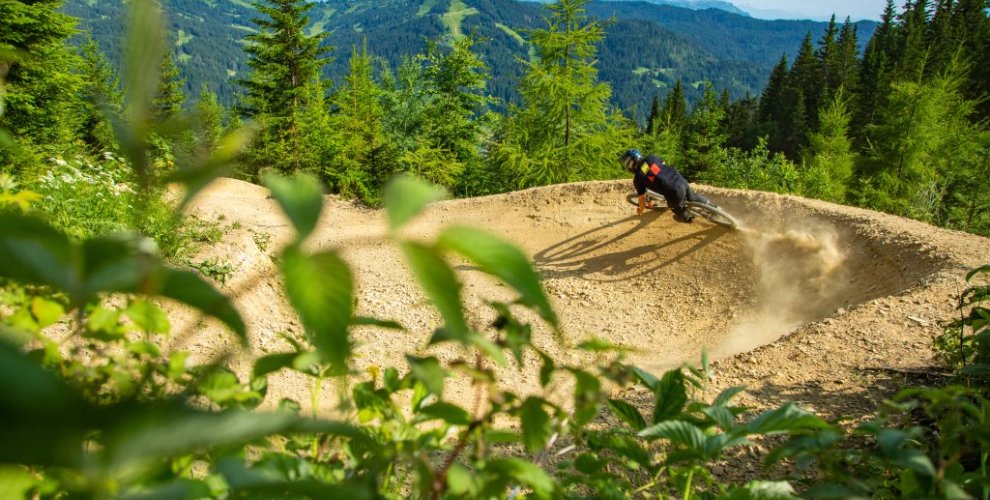 Contact us on the below
So there you go, Morzine and its surrounding resort have something for everyone. If it is your first MTB holiday or you have been for decades make sure you check out Atlas Ride Co and their incredible Morzine MTB holiday packages and accommodation. See you on the slopes and take care!